It's
Marvelous Middle Grade Monday at Ramblings of a Wannabe Scribe
and
What Are You Reading? d
ay
at
Teach Mentor Texts
and
Unleashing Readers.
It's also
Nonfiction Monday
.
Take a look at what you've read in the last year and nominate your favorites at
http://nominations.cybils.com/nominate.php
. I realized in putting together my list that about 95% of what I read is straight realistic Middle Grade Fiction. There are still some categories in which I haven't nominated, because the few things I did read have already been entered!
Aldrin, Buzz and Dyson, Marianne J.
Welcome to Mars: Making a Home on the Red Planet.
September 1st 2015 by National Geographic Children's Books
Book provided by publisher.
This well illustrated book by space experts lays out why people should colonize Mars and describes what preparations need to be made for such an excursion. From details of packing and the flight to equipment used on Mars and the natural resources of the planet, everything is covered with full but easy to understand descriptions. The history of space travel, with an emphasis on exploration involving Mars covered, is and there is a nice time line. The descriptions of how the crew will reuse parts of the ship to form a habitat, and the in-depth discussion of how food would be grown are most interesting. Aldrin makes a good argument that not only is inhabiting possible, but it is a great idea.
Strengths:
Young readers are always interested in daily life, so mock ups of living quarters, typical menus, and even a picture of a Martian basketball court will intrigue them. Science teachers will appreciate the detailed descriptions of atmospheric conditions and the surface differences of Mars. There is a nice bibliography as well as a glossary.
Weaknesses
: The computer generated pictures always look odd to me, but don't seem to register with students. I could have done without the activities, which were printed in very small font.
O'Neal. Shaquille.
Little Shaq,
Illustrated by Theodore Taylor III
October 6th 2015 by Bloomsbury USA Childrens
E ARC from Edelweiss Above the Treeline
Shaq and his cousin Barry love to play basketball as well as video games. When Barry gets angry at Shaq during basketball proactice and then again when they are playing their favorite video game, Barry throws a controller and breaks the disk. They are told that they need to earn the money for a replacement game, and they happen upon the job of watering plants. They work with their neighbors and earn enough money to replace the game, and also have enough extra to use to benefit their community.
Strengths
: The reading level on this is akin to an I Can Read Book or a level 2 Step Into Reading Book. There are one or two sentences on each page, and the pictures are plentiful. This makes the book perfect for emergent first and second grade readers. What is motivating me to purchase this is that the issues with which the boys struggle are also appropriate for older students as well. Struggling 6th graders will appreciate the celebrity name, the pictures, and the diverse characters.
Weaknesses
: The illustrations are great, but the faces of the characters all look like they are wearing "funeral smiles", so they look a little sad! (A funeral smile, if you are fortunate enough not to be familiar with it, is when the corners of your mouth reluctantly turn up, but your eyes are sad. It says "I am sharing a happy memory with you, but it's a funeral, so I can't actually be happy.")
What I really think
: I know that there are a lot of celebrities who turn their hands (often with help) to writing sports stories, and that some people aren't thrilled with them. I am. Nothing gets reluctant readers excited about a book than sports or a favorite player. ALL of the pro players can start writing, and I'll be happy!
Note: I don't think that Theodore Taylor III is related to THE Theodore Taylor, but if anyone knows for sure, please inform me!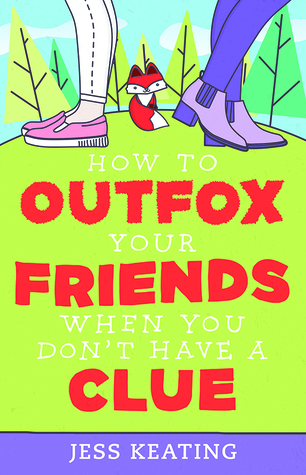 Keating, Jess.
How To Outfox Your Friends When You Haven't Got a Clue
October 2nd 2015 by Sourcebooks Jabberwocky
E ARC from Netgalley
Ana is turning 13 soon and is very excited about it. She is working on an autobiography project for school and also volunteering at a local wild animal rehab center, but the most exciting thing is that her best friend Liv is visiting from New Zealand for two whole weeks. Liv has changed a lot, not only having made friends with Leilani and dying her hair purple, and Ana is afraid to tell her that she is now friends with Ashley, whom the two had hated before Liv moved. With her family living away from the zoo, there's not quite as much about animals in the book, but there is a fox that her mother helped patch together after it was hit by a car, a run in with a skunk, and Ana's grandfather's continues fame as a naturalist. When a party is planned for Ana and her twin brother Daz, Ana has great hopes for it, but a rift between her and her new and old best friends cause the day to be full of drama.
Strengths
: Ana's drama with her friends and her brother are very accurate, and it's nice to see a school project included. That and the birthday party are really all the plot needed to use as a setting for all of the middle school angst about friends, fashion, and school.
Weaknesses:
Book 2 of this series seems to be in hardcover, but one and three aren't. Argh!
What I really think:
I like Keating's work so much that I read it even when I know I won't be purchasing a copy for my library. Her stuff should definitely be in hardcover!