My Grandma's a Ninja by Todd Tarpley, Danny Chatzikonstantinou
March 1st 2015 by NorthSouth (NY)
E ARC from Netgalley.com
This was a delightful picture book that I may have to buy for any of my friends whose children are foolish enough to procreate. If my own daughters are silly enough to have children of their own, I may have to write to the author and suggest a sequel My Grandmother is a Magical Unicorn.
This was very fun, but I have to stop reading picture books!
From Goodreads:
"When Ethan's grandma suggests they take a zip line to school, Ethan realizes that his grandma is a little different. In fact, she s a ninja! Ethan is soon the hit of the school when his grandma drops from the ceiling at show-and-tell, and teaches the kids karate moves and how to do backflips in slow motion. But when his grandma deflates his team s soccer ball, everyone is upset including Ethan. Why can t he just have a regular grandma? But when Ethan tries out his new karate moves during the championship game . .. he's happy that his grandma isn't ordinary."
Prince, Liz. Tomboy: A Graphic Memoir
September 2nd 2014 by Zest Books
This is by no means a middle grade book: way too many casual f-bombs litter the pages. I've seen this reviewed several places, and was intrigued. Prince, born in 1981, never felt "girly" and dressed more like a boy, even having a gender neutral hair cut. She didn't mind being mistaken for a boy, but disliked the bullying that she had to put up with.
I'm very sorry that Prince had to put up with bullying; that's never acceptable. But I was confused by this. I am much older than Prince, but never felt particularly "girly". Not wearing skirts wasn't an option when I was very small, but I spent most of 6th grade wearing three different pairs of colored Tough Skins jeans (red, green and brown) and often wore my father's neckties to school, for reasons I cannot begin to explain. I was on the weird end of the social scale, but people didn't give me that hard a time. My daughters, born in 1993 and 1998, wore "boy" shoes and jeans, and plain t shirts. My older daughter hung out with the boys and was often the only girl at birthday parties. She still loves to play Lord of the Rings Risk with a group of guy friends. My younger daughter still wears running shoes, jeans, and a hoodie nearly every day, and no one has ever given her a hard time.
So I'm just confused. In my school, we've had a decent amount of boys rock some pretty long hair, and as far as I know, no one has given them trouble either. This is 40 years after Marlo Thomas' Free To Be You and Me, which I definitely read when my children were small. We had trucks and dolls, kitchens and workshops. I really thought that most of the US had moved beyond gender stereotypes, but apparently that is not the case.
March 1st 2015 by NorthSouth (NY)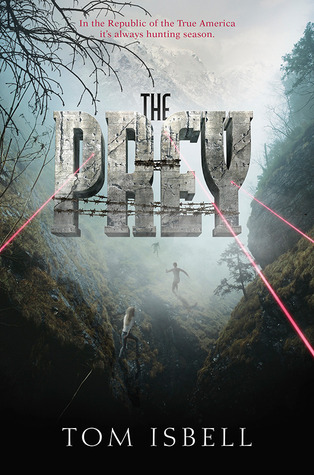 Isbell, Tom. Prey.
January 20th 2015 by HarperTeen
ARC from Baker and Taylor
In a dystopian US, we meet Book, who is an LT in a camp, and Hope and Faith, twins who have been on the run from the government with their father. When he dies, he tells the girls to split up because they are twins, but Hope thinks that Faith won't survive without her. In the meantime, Book meets a boy, Cat, who shows up at his camp injured. Cat tells Book that LT means Less Than, and tells him that all of the boys in the camp are somehow damaged by all of the radiation, and are used as a breeding ground for people for the government to hunt for fun. Hope and Faith get captured by the people running the camp for girls, and are the subject of horrible medical experimentations with very bad endings. There is a brief romance between Book and Hope against all of the odds, some mystery involving the girls' father, and attempts at escaping the system which results in being chased around by evil people.
Strengths: A dystopia with a military feel. Lots of action. A little romance. Quick read.
Weaknesses: Horrible treatment of people by other people. Sadistic, Mengele-like treatment, with very little mention of motivation for said treatment.
What I really think: This was super depressing, a bit oddly written, and had a lot of really nasty human-on-human violence, which is something I can't stand. Won't buy.