Yeah, well, the closest I get to celebrating this is to have a large number of neighbors in to consume my traditional ten pound lasagna, but I'm pretty Grinch-like when it comes to romance, no matter what the sidebar of Yahoo Mail seems to think. (For the record, I DON'T want to meet men in my area, and I especially don't want to meet
senior
men! Every year after the Cybils chat, those ads start popping up. Argh!) But, in the interest of being festive, and because Rhonda Helms is AWESOME, here's a romantical type book for today.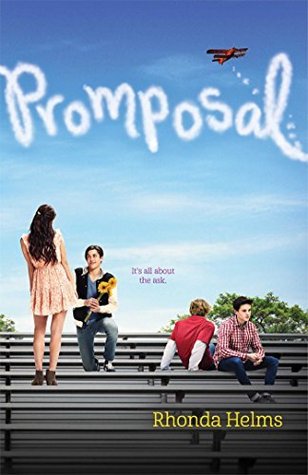 Helms, Rhonda.
Promposal.
February 10th 2015 by Simon Pulse
E ARC from Edelweiss Above the Treeline
Camilla has a huge crush on Ben, who has sat in front of her in class, silent, of course, for the entire year. She's a senior, and hopes that before the end of the year she can talk to him, but when Zach surprises her with an elaborate "promposal" with Ben watching, she is mortified and accepts Zach's offer. Later, she gets assigned to work with Ben on a school project, and the two hit it off, but he's reluctant to pursue her because of Zach's interest. In alternating chapters, we hear from Camilla's best friend, Joshua, who is really good friends with Ethan, and wants to ask him to prom. He's crushed when he finds out that Ethan is more interested in Noah, and wants Joshua's help in asking Noah out. There are any manner of other promposals in the air, some good, some bad, and Camilla and Joshua both need to figure out how to work through their love lives before they head off to college.
Strengths
: This was significant in that it had gay characters who didn't drink excessively or participate in any physical activity that I would deem inappropriate and instructional! (No matter who was involved, some things are not right for middle school.) There really wasn't anything that would keep this out of a middle school library-- just a lot of sighing and longing and kissing. Apparently, promposals are a real, if ridiculous, thing.
Weaknesses
: YA romances are more complex and ... whiny. Middle grade romances are a bit more fun to read. Less handwringing. But for high school, this is pitch perfect. It did seem a little odd that everyone in Joshua and Ethan's lives were completely accepting of their preferences; maybe that's the way it is in high school not, but it wasn't when I was in school, so it's hard for me to get my mind around.
What I really think
: Enjoyed, but will probably not buy. I'd love to see this author do an upbeat middle grade book!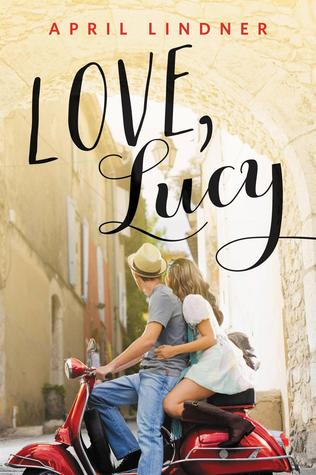 Lindner, April.
Love, Lucy.
January 27th 2015 by Poppy
Lucy really wants to be an actress, but her father wants her to major in business at his alma mater. If she gives up her dreams, he will reward her with a trip to Italy with the slightly older friend of the family. She and Charlene get along pretty well, but Charlene is rather difficult in Florence because she has a romance in the previous town and had to leave. Fed up, Lucy is glad to spend time with a New Jersey native Jesse tooling around town. Eventually, the two hook up, but then Lucy has to go back and go to college. At her first college party, she meets the devastatingly handsome Shane, who is interested in her. Business is boring, but the college is putting on a production of Rent, and even though Lucy told her father that she wouldn't do plays because, you know, he sent her to Italy, she tries out and gets a good part. Between Shane and acting, life is great, although Lucy is feeling pressured to hook up with Shane, and she's ambivalent because she still has feelings for Jesse. When Jesse shows up, how will she deal with it?
How I Would Have Felt About This at 16:
Ooooh. True love. In Italy! They ride on a Vespa! Jesse's so cute! It's so sad that they can't be together! Although why did he take her shirt off? And why was she so concerned about what he had in his pocket? Oh, well. Shane is cute, too! How will she decide! And Lucy should totally be an actress, just like I should be a college professor of Latin. Her father is such a tyrant!
How I Feel About this Now:
Lucy is an idiot. He father should drag her out of the private college and make her go to the local community college, because CLEARLY she can't control her own life. Why not major in underwater basket weaving instead of drama? Just as many jobs. And talk about a loser-- Jesse is just hanging out in Italy, making barely enough money to survive by
busking
, for heaven's sake! He's a real keeper. Shane at least is doing well in school and has some propects, so why is she still hung up on Jesse?
Caution for middle grades: Lucy and Jesse have sex, although absolutely nothing but the shirt taking off and the veiled references to protection take place. She's also thinking about pursuing the same path with Shane. I appreciate the fact that this is so vaguely described. I think I'll buy a copy even though personally it made me want to throw up a little. It's hard to find good romance books for middle grades.