It's
Marvelous Middle Grade Monday at Ramblings of a Wannabe Scribe
and
What Are You Reading? d
ay
at
Teach Mentor Texts
and
Unleashing Readers.
So much middle grade goodness today! I enjoyed both of these books so much-- the only sad thing is that I just got my last book orders delivered and will probably have to wait until next year to get copies of these to students. It will be WELL worth the wait, though!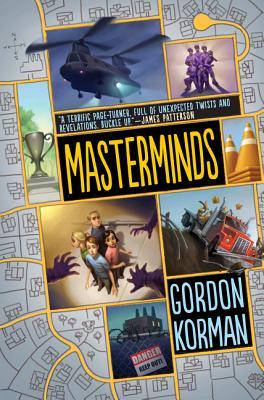 Korman, Gordon,
Masterminds.
February 3rd 2015 by Balzer & Bray
E ARC from Edelweiss Above the Treeline
Eli and Randy are good friends, and get into more than their fair share of trouble in their tiny town of Serenity. Randy's newest idea is to bike out of town to see an abandoned house with a cool vintage car in the garage. Eli realizes he's never actually left town before, and as the boys near the city limits, Eli feels very ill and collapses. He ends up being out of school for two weeks, even though he feels fine back in town, but he suspects that Dr. Bruder is giving him pills to make him forget the incident. Bruder's son, Malik, is not happy with the small town, and is ready to leave, even though he has a friend in Hector, even if the two don't always see eye-to-eye. Serenity is a great place to live, and there's no crime or urban blight or any of the horrible things that the local newspaper talks about, so Eli is worried when Randy gets sent to live with his grandparents after the boys' ill-fated excursion. His friend leaves clues, however, and Tori Pritel helps Eli realize that not everything is as is should be in Serenity. With the annual Serenity Days celebration coming up, this small group of children discovers horrifying secrets about their town and have to decide what to do about it.
Strengths
: Really don't want to give away the twist in this because it was SO good, and much darker than the beginning of the book would indicate. I loved how the place really was happy, the parents were all supportive and kind (and the kids still are fond of them even after the secret is discovered, which will add a lot to the next book, I suspect!), but there is an evil plot afoot.
Weaknesses
: One of the main characters supposedly dies during an escape attempt, but I wonder if that character might return in the next book.
What I really think
: Korman is awesome. This book was not only exciting, but thought provoking as well. Definitely buying a copy and waiting avidly for the sequel!
Rylander, Chris.
Countdown Zero(The Codename Conspiracy #2)
February 3rd 2015 by Walden Pond Press
E ARC from Netgalley.com
Carson is back, masterminding the Prankpocalyse in his school, even though pranks have paled somewhat in light of his official spy activity in
Codename Zero
. Prankpocalypse involves multiple infractions (including putting all of the cafeteria chairs in a restroom, which is kind of brillian), performed at 2:00 a.m. with a back up crew including Dillon and Danielle, as well as Jake, whom Carson doesn't fully trust. Principal Gomez comes to school in the dark of night (even I wouldn't get to school that early!) and almost catches Carson putting a Principal Gomez snowman on his desk, but everyone manages to escape. Soon, however, Agent Blue contacts Carson and tells him that Agent Zero is once again needed, this time to rescue Agent Nineteen from a virus that Medlock plans to release on the world. They fear that Nineteen is being held in a secret government lab located behind Mt. Rushmore. Luckily, there is a school trip planned to that tourist site, and a deal is arranged so that Carson can go. When he sneaks out at night, Jake follows him, and the next day, Jake shows up again. Too deep into the mission to turn him away, Carson lets Jake know what is going on, and the two get into the duct work in the lab. They find Nineteen and a man named Phil locked in a room, and manage to get in to deliver the antidote to the virus... only to have a huge complication. The lab is going to implode, and it's up to Carson to help Nineteen escape. Luckily, Danielle also followed the boys, and is able to get them out. The chase then ensues to track down the virus before it is turned over to Medlock. With a great setting that involves Snaketown as well as bears in the wild, this raucus adventure makes being a middle school agent seem not only plausible but really exciting!
Strengths
: With well-developed characters, some of whom surprise us, as well as a believable back story as to why a tween spy is necessary, Rylander's sequel is every bit as good as the first book, even if there is no herd of goats! Pure fantasy, of course, but I can see middle school students reading themselves right into the story. Great also that the plot involves a school trip and not an election!
Weaknesses
: Somehow, the involvement of Jake (as well as his backstory) made this seem slightly less believable, but I think that he will show up again to greater effect in later books.
What I really think
: Perfect middle grade novel. With lines like this describing putting up tents: "...it was like a tornado of cheap canvas and plastic poles. Most of the eleven tents were lopsided and looked like some sort of spiny techno-monster from a bizarre anime film." (pg 62 of E ARC), Rylander fully embraces the joys and possibilities of being an unlikely teen spy. I have two copies of
Codename Zero
because it's such a popular read with so many of my students.
Sixth Annual Guys Read Pink Month
This year, I can't say I'm excited about Guys Read Pink month, although encouraging boys to read books with girls on the cover seems to have resulted in a boy readership that is more open to reading anything.
I'm just waiting for boys to grow up and advocate for themselves. I know there are some grown up guy librarians, teachers, and others, but there are far too few. Why am I doing this? Sigh.
I always feel ambivalent about concentrating on books for boys. I'm an ardent feminist, and it took a long time for women to get the tenuous quasi-parity we have. Studies have shown that there are
far more books with boys as the main character
.
But boys still struggle to find books they will read, and their reading scores are not as high. A significant number of the teachers and librarians they meet are women.
Girls will read books with boys as the main character without blinking, but boys are more reluctant to read books with girls as the main character. Interestingly enough, when I tell the boys that they are encouraged to do this, they have a look of relief on their faces, and check out all manner of books with great gusto.They are less likely in the future to turn down suggestions just because they don't have a boy and an explosion on the cover. So, while this may be a flawed plan, it seems to be working at my school.