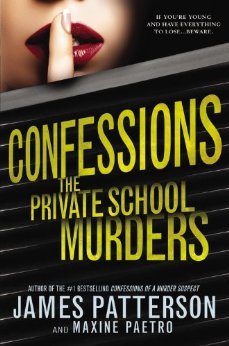 Patterson, James and Paetro, Maxine.
The Private School Murders (Confessions #2)
October 7th 2013 by Little, Brown and Company
Tandy is back (See
Confessions of a Murder Suspect
), and while she and her brothers are no longer suspects in their parents' murders, there are still a whole lot of things wrong in their lives. Older brother Matty is accused of killing his pregnant girlfriend, devious Uncle Peter is scheming to make the children broke, the mysterious Jacob is appointed their guardian, Tandy struggles with the fact that her parents drugged her AND with the fact that she isn't drugged anymore, and to top everything off, girls Tandy's age who attend private schools in NYC are being shot to death. Oh, and the Dakota apartment building in which they live is apparently infested with a ton of exotic and lethal snakes and spiders and Tandy is pining over James Rampling, her one true love whose father has apparently been hiding him from her.
Tandy, whose intelligence and physical prowess was enhanced by the experimental drugs her parents gave her, feels it is up to her to solve everyone's problems. The NYC police aren't particularly thrilled with her efforts, with the exception of Capricorn Caputo, a detective who worked with her previously. She makes some progress on the murder cases of both Matty and the private school girls as well as the infestation, tries to hunt down James, and attempts to come to terms with Jacob being in charge. In the end, things are resolved to a point, but more mysteries come up when Matty, Hugo, Harry and Tandy are sent to Paris to live in the home of Gram Hilda, whom they had thought had disowned the family.
Strengths
: Middle school students crave murder mysteries, and this one had a lot of twists and appeal. Rich people in New York, a teen who can solve the problems, an unrequited love, evil parents-- definitely a high school read, and okay for more advanced middle school students.
Weaknesses
: All of the pining for James and thinking about having her memory wiped by her parents got tiring. There were, again, lots of weird side stories that weren't strictly necessary and watered down the stories that could have been stronger. There are a few things that are borderline for middle school-- Matty's pregnant girlfriend claimed to be pregnant by his father, and Tandy's friend CP spends the night with Harry, after which there is a "You didn't...."/blushing nod exchange between the two.
What I really think:
Not to my taste, but I can see the appeal for students. This series isn't as downright awful as
Witch and Wizard
, but isn't well constructed or well written. Patterson's name always sells a book, and he has good ideas, but so many of these books could be better with a bit more editing. If they get kids to read, great, but they are not something I will recommend eagerly.
Patterson, James and Paetro,
Maxine. The Paris Mysteries (Confessions #3)
October 6th 2014 by Little, Brown and Company
The Angel children have a chance at a new life in Paris, thanks to a legacy from Gram Hilda, who disinherited their parents, but not them. Living in her house, they will have a monthly allowance for a huge number of years as long as they behave themselves. Matty goes back to New York to play football, and Hugo doesn't do much in this book but be vaguely bratty, but Tandy and Harry have trouble keeping to this simple request. Harry is doing drugs, gets involved with a party where a girl overdoses, has a recording contract and a gig playing the best known venue in Paris... if he doesn't aggravate his bad heart with more drugs. Tandy has a brief and perfect meeting with James (with whom she spends the night), but then he is gone. She gets into Gram Hilda's forbidden studio and finds out family secrets about her sister Katherine, who died in a motorcycle crash in South Africa years earlier, about Jacob, and about all of the experimental drugs her parents were giving the children. Once she figures out the family secrets, the family is forced back to New York, where she finds James again, only to have him break her heart.
Strengths
: The Paris setting is interesting, and again, students will like the romantic element and the evil parents and grandmother.
Weaknesses
: Two f-bombs just a couple of chapters from the end. Unnecessary, but at least Tandy and James' overnight activity is just hinted at. After having three mysteries in the last book, it's odd to have mainly the mystery of Jacob and Katherine in this one.
What I really think
: The events are so unlikely that this has a sort of R.L. Stine feeling of unreality about it. Lawn gnomes killing my neighbors? Scary, but not really. Parents experimenting on children with drugs that prematurely age and kill some of the kids who take them? Pretty unlikely. Tandy seems obsessed about everything she investigates in the most overwrought kind of way, which is tiring to me but probably appeals to the average overwrought teenager.