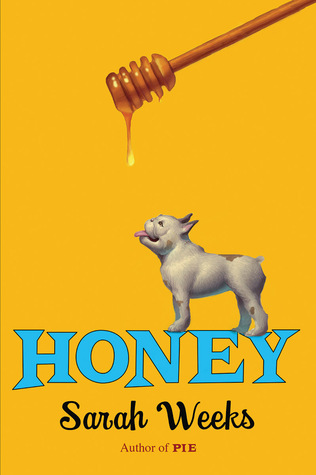 Weeks, Sarah.
Honey
January 27th 2015 by Scholastic Press
E ARC from Netgalley.com
Melody lives in a small town in Indiana with her father Henry, a high school humanities teacher. Her mother died when she was born, and her grandfather, who suffers from emphysema but who keeps smoking, occasionally visits. The annoying six-year-old next door, Teeny, has a divorced mother, and Melody's friend Nick's father is remarried. When Melody's father starts humming
You Are My Sunshine
around the house, and Teeny announces that she heard that "Henry was bitten by the love bug" down at the Bee Hive, Melody visits the new beauty salon in town to investigate. There, she fears that her father is going to marry a teacher that she doesn't like, but she also meets Bee Bee, who knew her mother when the two were younger, and shares long overdue information about her with Melody. After a bout of food poisoning, antics from Teeny, and more information about the past, Melody realizes that her father is not going to marry someone she hates, and she is reconnected with someone from her past.
Strengths
: On the bright side, this is somewhat less depressing than most of the other middle grade books that have come out recently. The small town is delightful, and Melody and her father are interesting characters. The Bee Hive is fun, and Bee Bee's nail polish will appeal to many middle grade readers.
Weaknesses
: I don't want to spoil the book, but I found the whole mystery of the deceased mother and the reconnection a bit... forced. I adore Weeks'
My Guy
series a lot, but I wish that she would go back to that sort of book rather than the more introspective, literary books like this one and
Pie
. There are plenty of authors who write books like that, and so few who can write a good humor book for boys.