*Sigh* I know I've been complaining about how all of the middle grade novels have been depressing. I was really, really looking forward to reading this new Ally Carter book, since the
Gallagher Girls
and
Heist Society
series are such fun. Tired of your hum drum existence? Become a spy. Or an international art thief. So much more exciting.
So I felt
personally
disappointed in this book. A foreign embassy? Surrounded by other foreign embassies with other teens in them? In a fairly secure country? What fun! Parties, hijinks, international intrigue. Oh, the possibilities.
Instead, we get buttloads of grieving angst. Buttloads. Mental illness. More angst. Gah!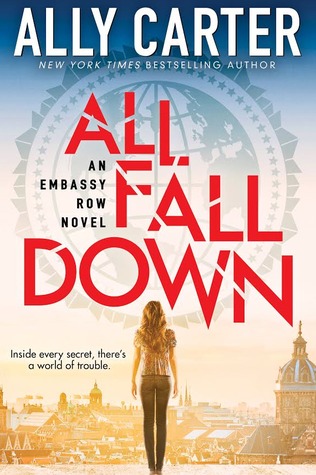 Carter, Ally.
All Fall Down (Embassy Row #1)
January 27th 2015 by Scholastic Press
E ARC from Netgalley.com
Grace has come to live with her grandfather, who is the US ambassador to Adria, since her father is in the military and her brother is at West Point. Her mother died in a horrific fire in her antiques shop, and Grace was there. She still hasn't gotten over the death of her mother, and everything sets her off. Being put in her mother's room, her grandfather not talking to her, seeing a man with a scar. She is sure that there was a man with a scar on the night that her mother died, and she is bound and determined that the man she sees in Adria is the man who killed her mother. She has several new people who care about her-- Alexei, who is a friend of her brother's and who promised to watch out for her; Noah, whose twin sister is the leader of the local embassy teens; even Megan, whose mother works for the US embassy and who always tried to be friends with Grace as a child. Grace shuts them all out and insists on getting involved in one risky exploit after another. When she is sure she has identified her mother's killer, she enlists all of her new friends to start stalking him, even breaking into his home and installing surveillance cameras. Grace is sure that the man means to kill again, but how far out of touch with reality is she? Even more so than the reader could ever guess.
Strengths
: There is no doubt that Carter can WRITE. This is absolutely filled with gut wrenching pathos, and I had to keep turning the pages even though Grace's grief made me physically nauseated. I don't know how she does her research, but the Embassy Row setting was brilliant and so vivid. The supporting characters are all well drawn and add much to the story. However...
Weaknesses
: The overwhelming grief was just too much to take! Yes, I know that losing a parent is a horrible, horrible experience. So why do we want to read about it? This great setting, and these great characters had the potential for a fun and light hearted book, but instead we get serious psychological imbalance. I hope that Grace gets the help she needs and is able to move on. I just don't know that I want to read the next book unless I know she can manage that.
What I Really Think
: Grace needs to suck it up. Not buying. Too angry and disappointed.