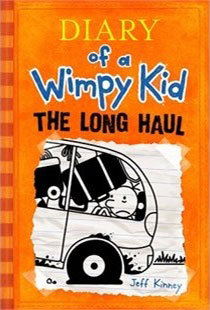 Kinney, Jeff.
The Long Haul (Diary of a Wimpy Kid #9)
November 4th 2014 by Amulet Books
Greg's mother has been reading magazines and has a great idea to go on a family car trip. They can't get all of their stuff in the van, so they decide to haul a decrepit boat behind them. Things go downhill from there. Manny is apt to take naps and CANNOT be woken up from them or he goes ballistic, so they drive around a lot and do things like send Roderick to the grocery store so they don't have to stop. They win a piglet at a fair, and Manny becomes obsessed with it. It eventually bites Greg, leading to a doctor's visit... at a veterinarian. Hotels are awful, they run afoul of another family on about the same path, lose stuff, have various van problems, and generally don't have a good time, even though Mom has Spanish language tapes and "Mommy Meals" along to make things more education and nutritious. In the end, they make it home, Manny is happy with his pet pig, and the decrepit boat gets sent on its way.
Strengths
: Despite the problems, this is a fairly happy book. The Heffley's soldier on bravely in spite of adversity, no matter how weird, and they don't really fight or become unpleasant with each other. A road trip book is far preferable to yet another middle grade book about bullying or school elections. Sure to be a hit because of the avid followers.
Weaknesses
: I'm not a book snob. I'm not. I adore Dav Pilkey, so was sort of irritated by the tirade against the "Underpants Bandits" books that get removed from Greg's school by adults who think they are "rude humor". I don't find that Wimpy Kid books have as much plot structure or character development (you don't know you miss them until you read something that lacks them!) as Captain Underpants, nor are they as clever, so it DOES irritate me when students don't want to check out any other books. All things in moderation. By the time students are in middle school, they need to realize that they will, occasionally, have to read books that don't have pictures. This is the Way of the World.