It's
Marvelous Middle Grade Monday at Ramblings of a Wannabe Scribe
and
What Are You Reading? d
ay
at
Teach Mentor Texts
and
Unleashing Readers.
It's also
Nonfiction Monday
.
Happy Book Birthday to Ms. Bertman tomorrow! If you haven't read
Book Scavenger,
go out and pick up a copy IMMEDIATELY. I won an ARC, and several of my students read it and were deep in the planning stages of doing a hunt... but with the end of the year, we didn't do the job I'd hoped. What a fabulous idea, and a fabulous BOOK. Like Barry's The Worst Class Trip Ever or Korman's Masterminds, it's books like this one that restore my faith in middle grade literature... and in humanity.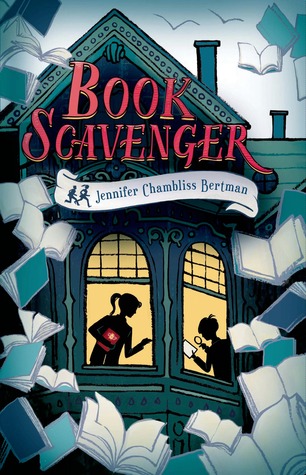 Bertman, Jennifer Chambliss.
Book Scavenger
June 2nd 2015 by Henry Holt and Co. (BYR)
E ARC from Edelweiss Above the Treeline
Also reviewed at
Young Adult Books Central
Emily isn't too thrilled about moving yet again, but she's used to it. Her parents are both able to work from home wherever they are, and they are gathering material for their book 50 Homes in 50 States by moving about once a year. Emily is excited about moving to San Francisco, though, because it is the home of Garrison Griswold, the founder of the Book Scavenger Game. It is helpful that her new neighbor, James, is also a fan of puzzles and is able to help her out with many of the clues, as well as to introduce her to life in San Francisco. When Emily finds a book that Griswold lost in a subway attack, she uncovers a game that has yet to be released. With the help of James, as well as a teacher at school as well as her rock band loving older brother Matt, she is able to work out the puzzles, foil thieves, and get a great introduction to a city she loves. Will she also be able to figure out Griswold's puzzle?
Strengths
: The descriptions of San Francisco are wonderfully clear, the Book Scavenger game something that many students will wish actually existed, and the characters are all well developed and intriguing. I especially liked the treatment of the sibling relationship. There's a bit of diversity. No one dies! I'm normally not a fan of puzzles, but these were done in a way that even I was intrigued!
Weaknesses
: Mr. Quisling's name seemed a bit overly quirky, and Maddie seemed excessively mean and underdeveloped as a character.
What I really think
: Absolutely delightful, and easy to hand to a variety of students: anyone who loves books, mystery readers, students who like travel stories. Even the cover has a cheery and timeless quality to it. A great companion to
Escape from Mr. Lemoncello's Library
.
Samuelsson, Marcus. Make It Messy: My Perfectly Imperfect Life
June 9th 2015 by Delacorte Books for Young Readers
Copy received from publisher
Samuelsson, celebrity chef and owner of the Harlem, NYC restaurant Red Rooster, recounts his unusual path through life in this young readers' version of his adult memoir (Yes, Chef, 2012). Written with Veronica Chambers, who has done some great MG/YA books of her own, this is an interesting overview of an unusual life. After suffering from tuberculosis, which kills his mother, in Ethiopia, Marcus and his older sister are adopted by a Swedish couple who are already fostering a biracial girl. In 1970s Sweden,
people of color were not common, and there were some racial issues. More importantly, though, Marcus played soccer with friends and cooked with his grandmother. After he realized that he was too small to become a professional soccer player, he started culinary vocational training, and worked his way into several very good restaurants, where the hours were long and the work crushing. He eventually contacted the owner of a Swedish restaurant in New York City, Aquavit, and was hired there. Life in NYC was very different, and he had a wonderful sense of no one looking at him in a way that didn't happen in the more homogeneous Sweden. He moved up the ranks, eventually becoming the head chef and then going on to a career in television that lead to him being invited to go to Ethiopia to reconnect with his cuisine of origin.
Strengths: My students have been enjoying memoirs like Michaela Deprince's Taking Flight, so I can see them picking this up. Samuelsson's early soccer career, as well as his apparent t.v. celebrity (I don't watch cooking shows, but apparently he has done a lot of them) will appeal to some of them, and this book was a good length (212 pages) and engagingly written. Samuelsson mentions that one fascinating thing about traveling to Ethiopia was "seeing myself everywhere", and this cover will appeal to a lot of my students who want to see themselves on the covers of books, even though I have more students with Somalian or Ghanian backgrounds.
Weaknesses: I've read a lot of books about cooking, so I could understand all of the foods and methods described. Most of my students will be completely kerflummoxed by some of them. A signature dish of foie gras? Is that even legal anymore? There are also a few unanswered questions, at least for me. How was Samuelsson's tuberculosis cured? That's a tough disease! I appreciated that a one night stand when young that left him with a daughter was handled delicately and that his parents made him do the responsible thing, but I would have liked to know what happened to her.
What I really think: I'm glad to have a copy, and I think that my students will take away from this book the lesson of perseverance and following one's dreams.
Personally, I love reading about cooking, but I don't like to cook and don't particularly care about food. There's a lot that doesn't make any sense to me! What kind of insane person would pay $18 for a bowl of soup at Aquavit? You could buy groceries for a week with that much money! I don't understand why kitchens at restaurants are such brutal places to work.