Cabot, Meg.
From the Notebooks of a Middle School Princess
May 19th 2015 by Feiwel & Friends
ARC from Baker and Taylor
Olivia goes to a private school in New Jersey and lives with her aunt, uncle, and step cousins. She's bullied and flat out beat up by Annabelle (whose father is her guardians' lawyer), but luckily rescued by... Princess Mia! Who turns out to be her half sister! And whisks her away to a posh hotel to meet her father! The reason she hasn't met her father previously? Her mother died in an accident when she was a baby and left instructions that she wasn't to be raised as a spoiled royal. Her father has been sending her letters, as well as significant support to her family, even though they might have been misappropriating it. When the aunt and uncle consider a move out of the country, the royals step in. Olivia is thrilled on so many levels: she fangirls over Mia, loves Grandmere's poodle, gets a phone of her own finally, as well as a significant wardrobe, and feels loved instead of being an inconvenience. Her aunt and uncle raise objections to her being taken to Genovia, but mainly because they want to keep their greedy paws on the royal money.
Strengths
: Olivia is biracial, and the cover shows that clearly. She does get away from the bully and finds a supportive family. This might gets younger readers interested in
The Princess Diaries
, which would be nice, since they are taking up an entire shelf in my library and not being read. Interestingly,
Royal Wedding
(June 2nd 2015 by William Morrow & Company) also introduces Oliva, but is being published as an ADULT book, which makes me worry.
Weaknesses
: Stereotypical bullying. We never find out how Olivia's parents got together, or what happened. There is conversation in texts. Everything seems a bit over the top, and yet very similar to Mia's story. I'm sure there are more books forthcoming.
What I really think
: Meh. I'll buy a copy, but there was nothing fresh or interesting in this. Cabot provided the interior illustrations, which are better than, say, Ruth Chew but have a very 1970s vibe to them.
Freeman, Martha.
The Secret Cookie Club
May 19th 2015 by Simon & Schuster/Paula Wiseman Books
E ARC from Edelweiss Above the Treeline
Four girls meet at Moonlight Ranch Summer camp. They don't get along at first, but bond when their conselour, Hannah, helps them make cookies. When camp is over and they go their separate ways, Hannah gives them recipe boxes, and the girls promise to stay in touch. Grace, who is half Chinese-American, goes home to Boston, where her very uptight parents control everything she does. She has to work on a project with Shoshi, a girl she really dislikes, but getting a batch of cookies helps her learn to get along with the other girl and eases the tension with her mother. Emma (from a wealthy suburb of Philadelphia) is supposed to be working on a family projects, but loses the pictures and has troubles with her mother. Cookies again save the day. Olivia, whose parents run a very successful barbecue sauce company, has trouble with math and has to watch her brother's sports. Lucy, whose lawyer father spent time in jail before leaving her mother, doesn't have enough money to return to the camp the following year. Her grandmother, who is rather hippie-ish, seems to have agoraphobia, and her mother works as a waitress in Beverly Hills, although they live in their own, very small, home there. Lucy babysits triplets and manages to save them from a coyote. As the year progresses, the girls write back and forth, send cookies, and plan for the summer.
Strengths
: Friend stories are always popular, and this had a little bit of variety in the characters. They all had different problems.
Weaknesses
: All of the girls are very privileged. Even Lucy, who is supposedly poor, lives in a neighborhood where the cheapest single family homes run about a million dollars. The other girls-- gracious! I didn't know it was possible to buy a house for nine million dollars! Yes, I got so distracted by the descriptions of the neighborhoods that I looked them up on Zillow. Olivia has a housekeeper who makes her snacks. Lots of private schools involved. It was beyond ridiculous.
What I really think
: There's an attempt at diversity, but like so many other ensemble books, the characters are basically all the same, just happen to be Jewish or African-American. Wait! We're missing the red headed girl on the cover. I'd like to see a more realistic group of friends, or at least a little economic diversity, but the camp seems QUITE posh.
Looks like there is a sequel in the offing, given the ending of the book.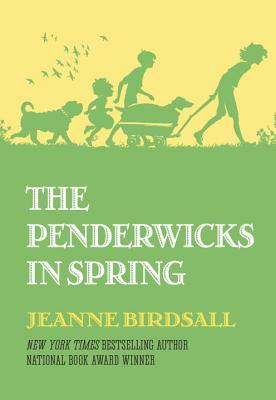 Birdsall, Jeanne.
The Penderwicks in Spring
March 24th 2015 by Knopf Books for Young Readers
Obviously, I cannot comment coherently on
The Penderwicks
judged on
my
RANT
four years ago. I knew this one was out, I requested it from my library, I tried my best to read it. I even got out the first two books in the series and tried to get students to check them out. No one would, not even for a class that required a novel with family interactions. I'm so conflicted about these. All of the people who like the same books I like think these books are great. I want desperately to like them-- the covers alone, with the silhouettes make me want to adore them.
The characters I want to slap soundly.
I'll keep the first two and see if anyone will ever read them. *Sigh* Perhaps if I didn't care so much, this would be easier!