Lane, Andrew. Dawn of Spies (A Crusoe Adventure)
March 29th 2016 by Adaptive Books
E ARC from Edelweiss Above the Treeline
Robinson Crusoe, who was shipwrecked at the tender age of 12, has been through a lot in his life. Luckily, he met Friday on his island, where SHE was trying to escape her evil pirate father, Red Tiberius. When the two are rescued and brought to London, they think it will be easy to survive, compared to what they have been through. Instead, the money they are given is stolen from them, and their prospects look bleak. Luckily, they meet Daniel Dafoe, who offers them money in exchange for their story. They are reluctant to tell it, deciding instead to try their luck at getting jobs on the dock and in a nearby pub. Since Friday is exotically dark, this is somewhat of a problem, so the two investigate Dafoe further. They find him living in strange quarters, surrounded by suspicious men who wear rings similar to the one Robin's father wore. It turns out that they are members of a secret government agency, Segment W. They look for threats to the king, and there turn out to be many of them. When the Countess of Litchfield is kidnapped by men who swoop down in a balloon, Robin and Friday know they are in for a penny as well as a pound. Soon, they are rubbing shoulders with Sir Isaac Newton and other luminaries of the time, and are plunged into one dangerous situation after another. When they are separated, the two realize that they have been great friends for many years, but may somehow mean more to each other than they imagine. When one adventure ends, we know that another will soon begin, because Red Tiberius is determined to find his daughter and make her part of the Circle of Thirteen.
Strengths: Lane can write a page turner like nobody else! I'll still waiting for book 6 and 7 of his Sherlock series to be out. That series has a fair number of readers, since many students know a bit about Holmes, and there are some connections to US history made in the books. I apparently love this period of British history more than I am willing to admit to myself-- thanks to Elizabeth Kyle's Princess of Orange, I have the background necessary to understand some of the political situations, as well as life during this time.
Weaknesses: My students don't have this background, and as action packed and interesting as this book is, I think they will struggle with many of the details.
What I really think: This is a book that I wish my students would read, but which they probably won't. Too much history, too much prior knowledge of British history needed.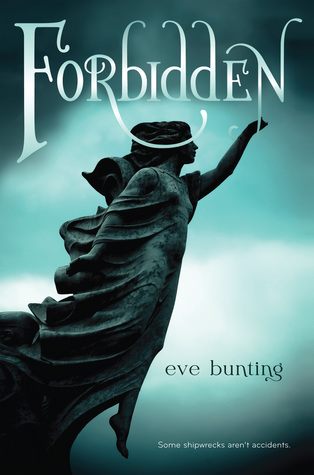 Bunting, Eve. Forbidden
December 1st 2015 by Clarion Books
In the early 1800s, Josie's parents both pass away after contracting influenza, and since she is only 16, she is sent from London to the windswept coast of Scotland to live with her uncle and aunt for two years. Her uncle is no longer an apothecary in town, but has moved out to a creepy house with his new wife and their vicious dog, Lamb. After being attacked by Lamb, Josie is trying to wash the wound with salt water when Eli comes upon her. Horrified that he might have seen her foot, she is even more distressed when he looks at the wound and demands to take her to see his grandmother, who is a healer. The grandmother helps, but warns Josie away from Eli. Something else odd is going on in the community of Brindle Point, and Josie soon uncovers creepy secrets about both her uncle's doings and Eli's involvement in them.
Strengths: Returning to the style of The Presence, Bunting pens an effectively creepy, Gothic romance in the tradition of Phyllis Whitney and Mary Stewart. Creepy house, windswept shore full of danger, surprising twists-- this has it all. I love creepy old houses and historical settings, so I enjoyed this tremendously.
Weaknesses: I just weeded The Presence because it hadn't been checked out in five years, and because the copy was really worn out, which might have attributed to it's staying on the shelf. The paranormal romances that my students favor now tend to be more modern, and have more action and fewer creepy houses.
What I really think: Eve Bunting is 88 years old. She can write whatever she wants!
Warner, Penny. The Hunt for the Missing Spy
(The Code Busters Club Case

#5)
January 1st 2016 by Darby Creek Publishing
E ARC from

Netgalley
The Code Busters club goes on a school trip to Washington, D.C. where they visit the Spy Museum and then take off on a scavenger hunt. The winner will get to meet an actual spy. The group is doing well on the clues until classmate Matt goes missing. They feel guilty, because they have suspected that they are being followed. Their teacher gives them reluctant permission to try to find Matt on their own, in the company of a parent chaperone. Of course, she soon breaks a leg, and the children find Matt on their own. He has been up to exactly what they thought he was up to, and is threatened with being sent home, but is kept on the t

rip because the teacher feels he will learn more that way.
Strengths: This had lots and lots of different codes. I imagine there is a phase when children are really into codes, but it's not middle school. I did like how the details of the D.C. trip were realistic, although I'm pretty sure we would have put Matt on that plane back home without blinking

.
Weaknesses: Too much co

de, not enough story.
What I really think: I'm still looking for mysteries with just the right balance of things; for some reason, Lewman's CSI Club mysteries have been really, really, popular, so I'll buy the re

st of that series, but think I will pass on this one.