Ready to rock my Dr. Seuss Cat in the Hat footed pajamas-- I like to accessorize them with a red blazer. This is an especially good thing, since I have my last observation for the year today! The school year is rushing right along-- I have my "bionic foot installation"* over spring break, then need to spend April and May cleaning out and setting up a Maker Space!
Had quite the discussion with Picky Reader (who is now a senior) about Haddix's work. She was a big fan of The Shadow Children series, which came out the year she was born! There's not a lot I can say about Under Their Skin without giving away major plot twists, but when Picky Reader read the description (From Goodreads.com: "
Nick and Eryn's mom is getting remarried, and the twelve-year-old twins are skeptical when she tells them their lives won't change much. Well, yes, they will have to move. And they will have a new stepfather, stepbrother, and stepsister. But Mom tells them not to worry. They won't ever have to meet their stepsiblings.")
she said "Oh, the new siblings are (insert guess here)." She wasn't quite right, so I said "Look at the cover". She replied "Oh! They are actually (correct answer here)!"
My assertion was that I didn't quite believe the worlds that Haddix constructs. Game Changers? Okay, fun idea, but really? Even Running Out of Time. Clever, but never quite convinces me. Picky Reader maintained that that was why she LIKED Haddix-- it was science fiction, but not too hard.
I'll probably buy this one since Haddix is a local author, and I'll read the sequel, but I just didn't think that Eryn and Nick were really going to be able to effect any change. We leave them in a cave in Kentucky, which is a nice touch.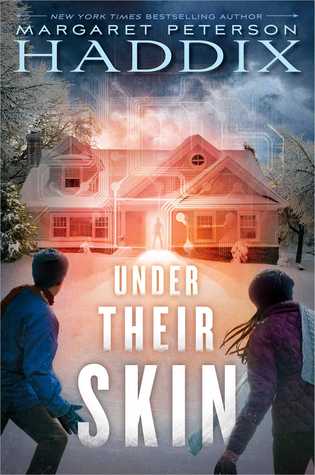 Haddix, Margaret Peterson . Under Their Skin (Under Their Skin #1)
January 5th 2016 by Simon & Schuster Books for Young Readers
*The real story is boring, so don't ask. Off for three days, then may or may not have to have students push me around the library in a wheelie chair. Luckily, I have my fashionable boot from this summer already!