Black, Peter Jay. Lockdown (Urban Outlaws #3)
March 8th 2016 by Bloomsbury USA Childrens
Copy provided by publisher
After their adventures in Urban Outlaws and Blackout, the kids are back, and determined to stop Hector from following in his father's footsteps and unleashing a horrific computer virus on the world. In order to do this, they need to get to the US to steal his computer. They make a deal with "the Shepherd" to get transportation to the US (which ends up being a sketchy, sealed cargo container on an airplane!), and in order to get return transportation, they need to steal something in Hollywood. Luckily, they have help from Lux and other people in the States. The process doesn't go smoothly, and there's lots of jumping off dangerous things, crawling around in air ducts in buildings, and using Wren to create distractions wherever they go. There's also a lot of techy details about copying hard drives, and a good measure of surveillance equipment that needs to be circumvented. Slink is concerned about his mother, and they would all probably like to spend more time in their underground bunker in London having tea, but the "outlaws" work plenty of excitement and adventure into keeping the world safe!
The number one complaint I get about books is that "nothing happens". This cannot be said about the books in this series! Even a trip on the Underground isn't complete without Wren throwing a fit, grabbing the conductor's keys, and using a jammer to bring the train to a halt! Something is always happening, and there is always a frisson of danger, no matter how innocuous the activity.
There are a lot of characters in the book, but it's easy to keep them straight. Charlie is the tech guru, Jack's the mastermind, Slink is the loose cannon, and Obi is the comic relief. The adults drive many of the adventures, but operate in a strictly "hands off" way, so that they can deny responsibility if the kids get in trouble! I did enjoy the fact that Slink's mother was taken care of by an unexpected benefactor.
While I normally get a little weary of the concept that the world is in dire danger and can only be saved by tweens, Urban Outlaws keeps things fresh and frantic with unlikely adventures that keep me turning the pages instead of worrying that the future of the world is in the hands of a ten year old with a pink bow in her hair!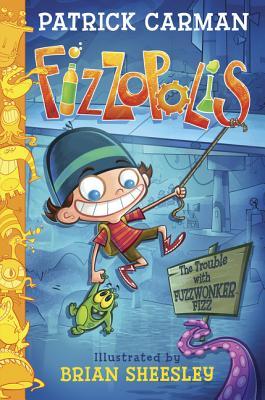 Carman, Patrick.
The Trouble with Fuzzwonker Fizz. (Fizzopolis #1)
March 1st 2016 by Katherine Tegen Books
ARC from Young Adult Books Central
Harold was adopted by Dr. Fuzzwonker, an inventor who has come up with a popular soda that is conducive to extremely large burps, and which has proven to be so popular that the competing Snood Candy Company is trying to steal the secret of it. Dr. Fuzzwonker decides that it is time for Harold to go to work for his company, so takes him underneath the house to his secret factory, where Harold discovers that the production of soda also produces small creatures called Fizzies, who populate Fizzopolis. One of the creatures, Floyd, takes a liking to Harold, and in order to keep the Fizzy out of trouble, Harold takes him to school. This doesn't work very well, as Floyd is an active and rambunctious creature, so Harold has a lot of intervention that must be done to avoid detection. This is especially important, since a Snood is in his class and would love to know about the Fizzies. It's a bit touch and go, with lots of wacky adventures for the friends while they are evading the Snood boy, but everything works out in the end.
There's the requisite villainous Snoods, fun inventions, and lots of goofy language. Floyd's trip to school is pure slapstick, with Floyd being mistaken for a bear by a sleepwalking classmate, and an earthshaking burp inspired by Fizzwonker Fizz. Through it all, Harold is up for any wacky adventure that comes his way.
There are enough Cartoon Network style illustrations to classify this as a Notebook Novel, so fans of Captain Underpants, Scieszka's Frank Einstein, Pastis' Timmy Failure and Richards' The Junkyard Bot series will revel in this tale of secret worlds, quirky inventions, and lovable, fuzzy companions.
This was a little too young for middle school, with all of the burp jokes, and the illustrations weren't quite to my taste. I may pass on buying this and get the rest of the Ricky Ricotta series.