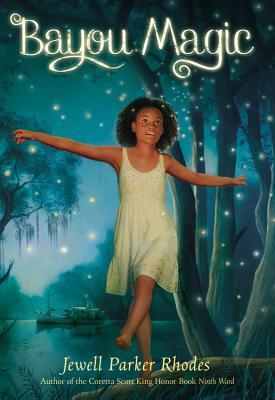 Rhodes, Jewell Parker.
Bayou Magic
May 12th 2015 by Little, Brown Books for Young Readers
E ARC from Edelweiss Above the Treeline
Maddy is apprehensive about visiting her Grandmère's in Louisiana for the summer, but finds that she understands her grandmother and enjoys life in the Bayou more than she imagined. She has a friend, Bear, who accompanies her on jaunts on the water, since she thinks she has seen Mami Wata, a water spirit. She enjoys listening to her grandmother's stories, and also enjoys cooking with her and learning about the medicinal uses of plants in the area. Bear's father works off the coast on an oil rig, and when a fire on the rig has disastrous consequences both for Bear and for the wildlife in the Bayou as well as the livlihood of the local people who harvest shrimp, Maddy must get in touch with her magic and try to restore the ecosystem of an area she has come to love.
Strengths:
Ms. Rhodes is a lyrical story teller who clearly loves this area of the world, values multigenerational connections, and believes that everyone possesses magic of some sort. Her characters are all supportive of one another and work together for the common good, and have a rich cultural heritage that Maddy learns to embrace. The theme of environmentalism is also a good one, and readers unfamiliar with the bayou will learn a lot.
Weaknesses:
This is a little slow, with the action building gradually.
What I really think
: Rhodes draws such a vivid picture of the grandmother that I couldn't help but contrast it with my own grandmothers, who would most likely have given me a dust rag or a hoe and told me to go be useful if I claimed to have been party to any magic at all! Neither were storytellers as well; there was work to be done. The descriptions of the climate were also so vivid-- all that mud, humidity and bugs-- it's not a setting I find appealing. I feel rather like I need to wash the mud off of my feet and coat myself in talcum powder. Effective writing, to be sure!