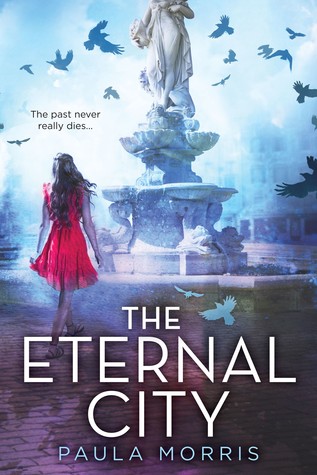 Morris, Paula. The Eternal City
May 26th 2015 by Point / Scholastic, Inc.
E ARC from Edelweiss Above the Treeline
Laura is on a class trip to Rome with her high school, and is so excited to be there, since she adores studying Classics. There are some annoying kids in her group, and the teachers are a little laughable, but she's enjoying seeing the sights. That is, until most of her group falls in, ash clouds cover Rome, and she sees statues move in odd ways. Someone tries to steal a bracelet with a gray stone in it that her grandfather gave her. With her friend Morgan, classmates Jack and Dan, Danish Kasper and the odd Sofia and Mia, the group tries to see Rome, but soon realize that things are amiss, and get caught up in a struggle between the ancient gods, many of them in the form of birds, that has Rome a complete wreck. Laura doesn't want to get involved, but the gem her grandfather gave her is crucial to the fight.
Strengths
: Paranormal adventure set in Rome? Yes! Ancient battle of the gods! Please! The descriptions of the city are excellent, the cast is fairly strong, and the mythology decent.
Weaknesses
: While there is some action in the beginning of the book, most of it doesn't occur until about 25 pages from the end of the book. Referring to one of the teachers as POTUS (her last name is Wilson) was annoying; I'm annoyed when this term is used to refer to the actual president!
What I really think
: Perhaps my expectations were too high for this, but I was disappointed. Laura's involvement in the battle isn't explained as well as I would like, she doesn't seem at all interested in being part of it, and the writing seemed... off. This is more of a young adult than a middle grade title.
Salane, Jeffrey.
Justice
31 March 2015, Scholastic
Copy provided by
Young Adult Books Central and reviewed there
In this sequel to
Lawless
, M is back, but this time she is at the Fulbright School and not the Lawless one. Joining her are her friends Merlyn and Jules (whom she wanted to be with her) as well as Cal, whom she likes but doesn't trust. Fulbright students include the tech savvy Keyshawn and M's roommate Vivian, and there are plenty of adults guiding their progress (like Calvin's dad, the school principal), or getting in their way (like M's mother, who is captured by the Fulbrights). Keyshawn's technology plays a very large role in the book, from the performance enhancing drugs the children are given to the tech suits they wear that communicate with the drugs in their systems. There are lots of mysteries to solve, as well as lots of training, and M and her friends throw themselves into all of it, hoping to figure out which side is trying to destroy the world and which side is trying to save it!
Keyshawn's technology is a fascinating part of this book, even though some of it seems highly dangerous! M is drugged, has a tracker installed in her arm, and gets to wear a suit that makes up for her body's deficiencies. She also has to deal with a wide variety of people who may be trying to save the world, if they aren't trying to destroy it. She does receive a posthumous message from her father that is quite touching, but what is she to think about her parents' wishes when her mother kicks her away from a helicopter while it is flying over snow covered mountains?
Besides the technology, the most fun part of this was the traveling—in trying to solve the mystery of the Mutus Liber, the team travels to Prague and London at the behest of the mysterious Mr. Doe, and spend some time getting up to no good in the heavily guarded British Library! M gets to try her hand at flying an airplane again, this time with slightly better results!
For fans of art theft mysteries like Ally Carter's Heist Society or readers who enjoy Horowitz's and Gilman's spy novels, Justice is a great blend of technology, adventure, and divided loyalties that will keep readers turning the pages to find out whether M is fighting on the side of good or evil!