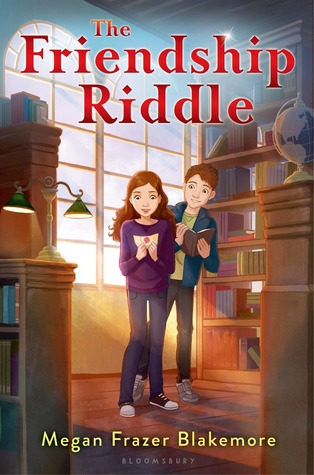 Blakemore, Megan Frazier.
The Friendship Riddle
May 5th 2015 by Bloomsbury USA Childrens
E ARC from Netgalley.com
Ruth is growing up in a small town in Maine with her Mom, who is a doctor in Rockport, and Mum, who travels a lot with her job as a software trainer. Ruth's former best friend was Charlotte, who lives in an apartment over the town library, which was redesigned by her one father. Her other father works in the library. Charlotte has become pretty and popular, adn would rather be with Melinda than Ruth, who doesn't care what she wears and is still obsessed with the Taryn Greenbottom books by reclusive writer Harriet Wexler. Ruth is invited to a mortifying play date with Lucas (who sounds like he might be on the autism spectrum), and starts to connect with the quirky Lena. She also makes a friend of Coco (Christopher), who offers to help her study for the local spelling bee. The big mystery in Ruth's life centers around a succession of notes found in the library and various other places. These notes seem old, and have a number of riddles that must be solved. With her new friends, Ruth makes pretty good headway on the clues. When dramatic snows ruin the library, she is forced to make an uneasy truce with Charlotte. In the end, an unlikely source is discovered for the notes.
Strengths
: Nice diversity that isn't harped on-- two nontraditional families, and Charlotte has been adopted from China. Ruth's friendships develop in an understandable way. Her Mom is pushy about certain things (school lunches, the locker room), and that embarrasses Ruth. The mystery, while improbably, is interesting.
Weaknesses
: This would have been a great book to hand to readers of either genders, except that there are lengthy discussions about Ruth wearing a bra and other puberty things that even I don't want to read about. Taking those out would have brought this to a more manageable length as well.
What I really think
: I didn't buy that notes had been floating around for 20 years, and that they were dreamt up by someone with whom Ruth was familiar. Taryn Greenbottom? There were also too many details about the spelling bee-- reading lists of words was boring.
Cheng, Andrea.
The Year of the Three Sisters
April 7th 2015 by HMH Books for Young Readers
In this fourth book in the series, Anna talks to her best friend, Andee, about trying to get her friend, Fan, to come to the US from China for a student exchange. In a typical Andee fashion, her friend organizes everything for Fan to be able to come over-- passport, school enrollment, money for the flight. What Andee doesn't understand is that in China, Fan works full time because her family are migrant Chinese, and forbidden from going to the "regular" schools in the city. Fan is grateful to be in the US, and studies very hard so that she can improve her family's life. Andee doesn't understand-- why doesn't Fan want to have more fun? Anna, who saw the conditions under which Fan lived in China, knows how hard it is for Fan to be away from her family, and tries to help with her transistion. Will this hurt her friendship with Andee?
Strengths
: This was another charming book, and I enjoy these more the older Anna gets. The book shows real concerns treated by everyone in a supportive and helpful fashion. I did buy the other books in the series, and my 6th grade readers have picked them up. Perfect for elementary school, and good for lower lever middle school readers.
Weaknesses
: Was a little hard to believe how quickly Fan was able to come to the states, but Cheng does mention all of the difficulties and paperwork that would be involved.
What I really think
: Reading a generally upbeat, easy book is such a relief on some days. I would love it if Cheng wrote books with different middle school aged characters. That would make my day!