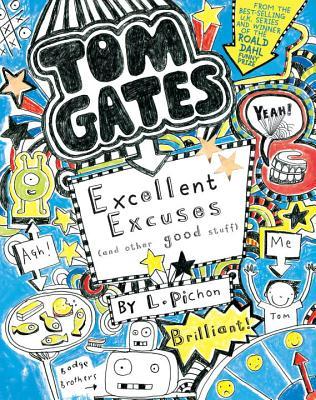 Pichon, L. Tom Gates:
Excellent Excuses and Other Good Stuff
May 12th 2015 by Candlewick Press
E ARC from Netgalley.com
In this sequel to
The Brilliant World of Tom Gates
, Tom is back annoying his sister Delia, getting into trouble at school for skiving off almost all of his work, trying to get Norman to be a good drummer in his band, Dogzombie, and dealing with a toothache. In his inimitable fashion, he manages to get sucked into playing in the school band (which doesn't use instruments, but instead performs on makeshift ones created from garbage) but then can't play in a school assembly because his arm is "injured", learns some classic rock from band mate Derek's father, and plays
Wild Thing
and
Smoke on the Water
to much acclaim at the Leafy Green Old Folks Home where his grandparents live. Along the way, he does a lot of drawing, eats as many caramel wafers as his sore tooth will permit, and foils the obnoxious Marcus in his plan to win the award for the most gold stars during the term.
Strengths
: Notebook novel, with a lot of fun moments like Tom having to wear teddy bear swim trunks because he has forgotten his own. Rings very true when it comes to the distracted sorts of things that middle grade students do. Love the family dynamic, the scenes at school, and the quirky grandparents. Definitely the Leafy Green Old Folks for me!(Or, even better,
The Green Leaf
!)
Weaknesses
: While this book comes in at over 325 pages, there are about five sentences per page. Perfect for students who don't want to read and are told they MUST read 20 pages a day. I find the rebus-type text difficult to follow, and this, like the first, is a bit light on plot.
What I really think
: Liked this one better than the first, and love the glossary at the back with the Britishisms. If my students must read notebook novels, at least they can read ones that are the British equivalent of
Charlie Joe Jackson
! Will also purchase
Everything's Amazing
, which comes out in September.
Tom Gates is also a rare glimpse into FUNCTIONAL British parenting. My. If I based all of my opinions of British parenting on the collected works of Jacqueline Wilson, or other authors, I would be very concerned for the future of the Empire.
Crossan, Sarah.
Apple and Rain
May 12th 2015 by Bloomsbury USA Childrens
E ARC from Edelweiss Above the Treeline
Apple is being raised by her Nana because her mother ran off when she was small to be an actress in the US, and her father is busy with his new wife and impending baby. Apple gets along with Nana, but isn't overly fond of school. When her mother shows up, Apple is very glad, and decides to go live with her in a small apartment. She is surprised to find that she has a half sister who is ten, Rain. Rain is obsessed with her doll, Jenny, and acts as if she is real. Apple's mother is very irresponsible, having parties in the apartment and running off to London for auditions, frequently leaving the girls alone. At one point, Apple misses over two weeks of school so that she can babysit Rain. Eventually, things become impossible, and adults in her life step in to help.
Strengths:
I liked this better than
The Weight of Water,
and rather enjoyed it. Mildly British and VERY much like the works of Jacqueline Wilson or Cathy Cassidy, if those books are popular in your library.
Weaknesses
: My readers aren't picking up the Wilson or Cassidy, so I have no good reason to purchase this book.
What I really think
: Perhaps the British are so obsessed with murders because all of the mums are dysfunctional. Okay, I have a friend who is a British mother, so not ALL of them are dysfunctional, but you would not know that from reading the UK books that make it over to this side of the pond! That's my next quest-- finding a modern UK book with a great mother!
Nadin, Joanna.
Joe All Alone
May 7th 2015 by Little, Brown Young Reader
E ARC from Netgalley.com
Joe lives in Peckham, in a run down apartment building with his mum and Dean, her slob of a boyfriend. When the two adults decide to holiday for a week in Spain, they decide it's perfectly okay to leave Joe alone. At first, this is a great idea, because Joe can play video games all day and eat chocolate for breakfast, and he even makes a friend in Asha, who is staying with her step grandfather who lives in the building. Soon, though, the electricity starts to run out, there's not much food, and when school starts back up, Joe isn't able to keep his uniform clean, and a bully demands to be paid a pound a day. Asha knows about Joe's predicament, but since his mum is supposed to be back soon, the two don't worry too much. When his mum and Dean are a week late and Joe gets sick from eating week old, unrefrigerated goat curry, the adults at school and in his building step in and find help for him.
Strengths
: Well written, interesting, and sort of
Box Car Children
-like in Joe's approach to having to take care of himself for a week. Loved how it referenced Wilson's Tracey Beaker!
Weaknesses
: A bit too British, only available in paperback, and really? He thought it was a good idea to eat the goat curry? I will have to make sure I investigate E ARCs more carefully. I might have considered buying this if it were available in hardcover.