Summer vacation begins today! Have a lot of reading planned, although I hope that I can find better books than I struggled through this past weekend-- a lot of depressing stuff, and more quirky fantasies than I thought were possible to have been published. Sigh. Well, Armchair BEA starts on Wednesday, so that will be fun!
It's
Marvelous Middle Grade Monday at Ramblings of a Wannabe Scribe
and
What Are You Reading? d
ay
at
Teach Mentor Texts
and
Unleashing Readers.
It's also
Nonfiction Monday
.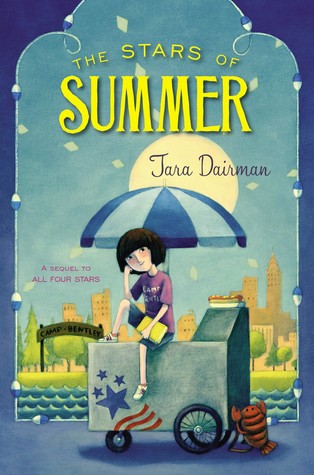 Dairman, Tara.
The Stars of Summer
May 5th 2015 by Putnam Juvenile
In this sequel to
All Four Stars
, Gladys is given a summer at camp by new friend Charissa Bentley, whose parents run the local camp. Since her friend Sandy is being sent to a sleep away camp, she hopes to be able to use the opportunity to sneak into New York and complete some of her reviewing assignments for the newspaper who mistakenly thinks she is much older. Instead, she gets sucked into working in the camp kitchen and into remedial swimming lessons with camp celebrity, a teen author who sometimes deigns to be nice to her. To complete an assignment on hot dogs (that is really the work of the evil G. Gadfly), she cajoles her parents into taking her to beaches, where they eat hotdogs and also bond as a family. When Gladys discovers Gadfly's evil plan, she works to make sure he can't complete it.
Strengths
: Fun, upbeat story about a child with an interest and passion. I especially liked how the PARENTS were the ones that really grew, although Gladys does stretch herself as well. The family bonding time is a relief after the neglect of the first book, and the villains are just wicked enough to be believable. Enjoyed this quite a bit.
Weaknesses
: In the first book, the first chapter was absolutely hysterical and action packed; I kept waiting for something like that in this book, but it never came. This also stretched credulity quite a bit, with two young writers. I was proofreading 8th grade papers where students didn't use any capitalization, so a best selling 12-year-old author? Hard to believe. Also had trouble believing the camp kitchen part. Students will not have this problem.
What I really think:
Loved the first one, and this is a worthy second. Hope the series doesn't go beyond three, though-- I'd much rather have stand alone titles!
Mackler, Carolyn.
Best Friend Next Door
May 26th 2015 by Scholastic Press
E ARC from Edelweiss Above the Treeline
ARC from Young Adult Book Central and reviewed there.
Hannah is sad when her best friend Sophie moves to Canada, and she's not happy when the girl who moves in next door is wearing the same shirt she has on, has the same birthday, and likes peanut butter but hates pizza! In addition to missing her best friend, Hannah is upset because her step mom, Margo, who is soon adopting her, is having a baby. Emme isn't happy about moving from a warm island to a cold, landlocked place, and she's unhappy when her cat Butterball goes missing... and ends up at Hannah's house. When school starts, Hannah's year is going smoothly, but Emme is stuck with a difficult teacher as well as mean girls in her class. Eventually, Hannah and Emme become friends because they both love to swim and embrace their differences. Hannah is instrumental in telling Emme's two mothers about Emme's difficulties at school, which results in Emme being moved to another class. The two have their ups and downs, especially when they go to winter camp with Sophie, and Emme and Sophie hit it off, much to Hannah's consternation. Fifth grade is a difficult year, with lots of drama, but in the end, the girls end up even better friends.
Strengths
: There's some bullying in this, but it is done in a realistic way. Mean girls in Emme's class make fun of her because she's small, but always in a joking way, quietly and behind the teacher's back. There's even an anti-bullying assembly; those are a real thing, although I doubt they do any good at all. The fact that Emme has two mothers is very matter of fact, and Hannah's difficulty in accepting the new baby is realistic for this age group. Generally upbeat, with small but significant-at-the-time problems. Nice middle grade entry from a YA author.
Weaknesses
: This came very close to being TOO angsty when Hannah got upset at camp, but pulled back in time. Butterball having an illness also was almost overboard. There was enough going on without these two events.
What I really think
: This is more of an elementary school book, but I may buy it for 6th graders, who are still having more friend drama than boyfriend drama. Seventh graders might even read it, but it's much too young for 8th graders.