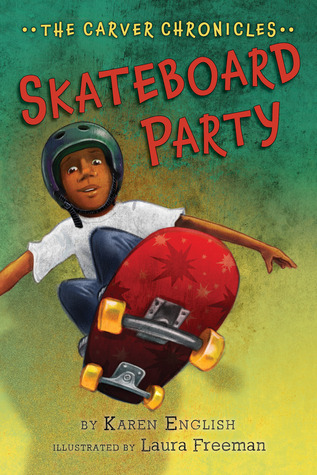 English, Karen.
Skateboard Party. (The Carver Chronicles #2)
December 2nd 2014 by Clarion Books
In this sequel to Dog Days, Richard has put off doing his project on Howler Monkeys. His teacher, Ms. Shelby-Ortiz, gives him a note to take home on a Friday, but he decides that giving the note to his parents will ruin his weekend of playing video games, so he conveniently forgets. Even though he is assigned several lunch detentions and has to sit on the bench at recess, he decides to withhold the note for various reasons, like the fact that he hid cereal in a plastic container in the oven, and his mother melted it. He's in enough trouble already, and he doesn't want to miss a birthday party. His friend points out that it would have been less trouble to just do the project, but Richard is in deep and can't find a way out of his problems. His parents are called to school, and his punishments are much worse than doing the project, but he finally pulls himself together to do well on a spelling test, and actually enjoys learning about Howler Monkeys. Because of bad weather, he even gets to go to the birthday party!
Strengths
: There are so many good examples of consequences and supportive adults in this book! I love how it even describes how students are supposed to wait quietly to be excused. The cover will intrigue students, and they will find Richard's plight funny, but identify with his problems at the same time. This is definitely an "organic chicken nugget" type book.
Karen English
should write some books for slightly older middle grade readers!
Weaknesses
: Will students find this overly didactic? I thought it was great and would like to hand it to some of my reluctant readers to see what they think.
What I really think
: Buying copies and foisting it on children whether they like it or not. Maybe it has enough pictures to appeal to my notebook novel fans, who certainly can learn from Richard's mistakes!