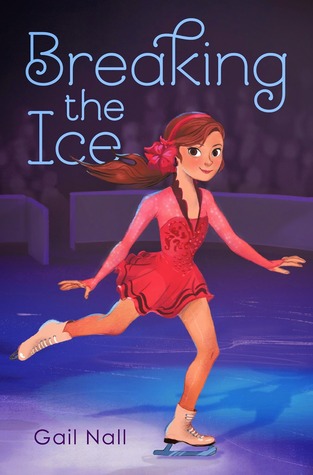 Nall, Gail.
Breaking the Ice
January 13th 2015 by Simon & Schuster/ Aladdin
E ARC from Edelweiss
Kaitlyn is dedicated to figure skating and to going to Nationals... until she does poorly at a competition and yells at the judges! Not the sort of behavior expected of skaters, so her club and her coach drop her. Since her mother has quite her job in order to home school Kaitlyn so she can devote time to skating, they find another club and coach, but since it is Fallton (aka "fall down"), they are less than thrilled. Once Kaitlyn gets used to the people, she finds that most of them are nice, with the exception of Addison, who is snotty and supercompetitive. Since her old friends don't want anything to do with her, she is glad to be able to hang out with Muri, who loves to skate but also goes to public school, and Braedon, who is cute but a little undisciplined. Kaitlyn would love to go to public school so she could make more friends, but her mother doesn't want her to. After some bad decisions on Kaitlyn's part, she is in trouble with her parents, but she is able to put more emotion into her skating program. What is the best way to balance skating with the general issues of being 12?
Strengths:
Both of Kaitlyn's parents are pleasant (if a little driven) and supportive. And alive! Her problems are real and very important to middle grade readers-- having friends, figuring out why people are mean, pushing boundaries, getting in trouble, being around cute boys and not knowing what to do. PEOPLE! We don't need horrifically depressing problems. When you're 12, the problems like the ones in this book are more than mortifying!
Weaknesses:
Little concerned about Braedon being a cute "bad boy", but Kaitlyn was leery enough of him that I wasn't as concerned as I would have been had one of my daughters been interested in him. I also was hugely relieved when Kaitlyn is allowed to go to public school: I know that homeschooling works for some people, but as a student and a parent it has NO appeal. It sounds horrific to me on so many levels!
Kurlansky, Mark.
Frozen in Time: Clarence Birdseye's Outrageous Idea About Frozen Food
Published November 11th 2014 by Delacorte Books for Young Readers
I know that not everyone likes to curl up with nonfiction books on obscure topics the way I do, but middle school librarians need to take a look at this one. For one thing, I love Kurlansky's writing. I don't know why. It just always sucks me right in, and gets me interested in stuff that I really don't care about, like the history of salt. For another thing, National History Day should be flooded with projects on Clarence Birdseye and Philo T. Farnsworth, and it's not. What is more influential on modern life than frozen food? And who made it commercially viable? (I loved Kurlansky's assertion that it doesn't matter who invents something, it's the person who makes money at it who becomes famous!) Birdseye. I do have one student doing a project on it this year, but this is a must purchase for nonfiction collections. It will get used for research, and read by the three students every year who are willing to read literary nonfiction to make me happy.
I would have spaced out the pictures rather than putting them in an 8 page photo insert-- with today's graphic heavy series nonfiction from Lerner, etc., students are not as used to the text heavy versions of nonfiction.
It's
Marvelous Middle Grade Monday at Ramblings of a Wannabe Scribe
and
What Are You Reading? d
ay
at
Teach Mentor Texts
and
Unleashing Readers.
Nonfiction Monday
also takes place today.