Viorst, Judith.
Lulu Walks the Dogs (#1)
September 4th 2012 by Simon & Schuster
Lulu wants something (we are not told what), and her parents are going to make her earn the money for it. They point out that that nice boy, Fleischman, does all sorts of odd jobs, so she can, too. She approaches Fleischman to tell him that she won't encroach on his jobs if he doesn't encroach on hers, and proceeds to round up jobs walking dogs. Her mother goes with her to the homes, where she meets three dogs who seem to like her, and she starts her business. Things don't go smoothly, and Fleischman, in the most annoying fashion, is there to help. Lulu eventually gives him a cut of the pay, but really wants to be able to do the job by herself. She ends up alienating her associate, but later making up with him.
Strengths:
This is well designed, with lots of white space and pictures, different sized fonts, and touches of color. The size of the book makes it look like it is a middle school book, even though the target audience is clearly a bit younger. The story is delightful and funny.
Weaknesses:
A hard read. The AR reading level on this is 5.1. I need books on a second grade level for some of my struggling readers. Hoping this will appeal to them anyway, and they will power through because it's so funny.
What I really think
: I love Judith Viorst's poetry for adult women, and this has the same refreshing, frank, funny tone. Nothing condescending. Just loved this. Buying the set.
Viorst, Judith.
Lulu's Mysterious Mission
April 8th 2014 by Atheneum Books for Young Readers
Lulu's doting parents go out of town despite her objections, and leave her in the care of the best babysitter in town-- Sonia Sofia Solinsky. Ms. Solinsky is very firm and on to all of Lulu's tricks, no matter what she does. After Lulu attempts to import cats, to which Ms. Solinsky is allergic and an unfortunate incident involving a dresser in front of Lulu's bedroom door, Ms. Solinsky lets it slip that she is actually a spy. At that, Lulu begs to be trained as a spy for the remaining six days, but Ms. Solinsky demands utter obedience. After that, Lulu has much more fun, learning to disguise herself and being instructed in the ways of spies. When Lulu's parents return, she is crushed to find that they never want to travel again without her, which means she won't need a babysitter! She uses her wiles to insure that she will be able to keep up her spy training.
Strengths
: Anything with spies goes over well with middle school students, even struggling ones. Definitely funny and engaging.
Weaknesses
: Not an emergent reader book. AR level is 5.9. Very few middle grade books are written at this level. Great for strong second graders, not great for struggling 6th graders!
What I really think:
Even better than the last one. Looking forward to more!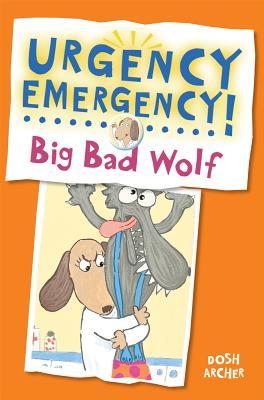 Archer, Dosh.
Big Bad Wolf
September 1st 2013 by Albert Whitman & Company
To compare, this had a better reading level (2.8), but was too elementary for my kids. Sort of clever, but too young looking for 6th graders to want to pick up. Fine for elementary school, which is the target demographic!
The quest continues. Looking into some Step Into Reading Spider-man books, too, after a fight nearly broke out over the one that I picked up at the thrift store!