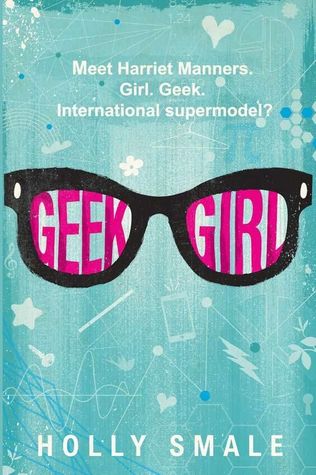 Smale, Holly. Geek Girl
January 27th 2015 by Harper Teen (first published February 1st 2013)
Harriet is socially inept and a klutz to boot, so when her best friend Nat (who has always wanted to be a model) makes her go to a clothing show on a school trip, she is hesitant, especially when it involves a five hour bus ride with fellow geek/stalker Toby. When Toby manages to throw up on both girls, they are kitted out in soccer (football- this is a British book) uniforms and set loose on the fashion show. Harriet manages to knock over several booths and end up under a table with a very good looking boy, Nick, who works for a modeling agency. Wilbur is the scout for that agency and is taken with Harriet, wanting her to come and interview with a famous designer to be the face of her new line. Harriet's step mother is against this, but her father, a rather irresponsible guy who works in advertising, is so excited about the opportunities that he lies to his wife about taking Harriet to Moscow, and she goes off on a modeling job with Nick. There are problems at school concerning her geekiness and a mean girl there, but Nat forgives Harriet her modeling career and stands up for her.
This is a series of four books. I don't know how I missed them when they first came out.
Strengths
: Amusing geek-to-chic story that is fast paced and clean enough for middle school girls. The Louise Rennison books seem to have run their course, and there's always a subgroup who likes British books, so I was glad that this new cover appeared on the New Books shelves at the public library. The parents in this are quite fun, too.
Weaknesses
: I'm sure I was considered a geek in high school, so I had some problems with the whole geek aspect of this. The bullying by the mean girl was stereotypical and didn't add much to the story. This is supposedly based on the author's life, but it read like a geek story told by someone who had never really been a geek.
What I really think
: Fun, even though I don't believe the geeky parts. Will buy.
Pyron, Bobbie.
Lucky Strike.
February 24th 2015 by Arthur A. Levine Books
E ARC from Edelweiss
Nate is scrawny, living with his grandfather because BOTH of his parents were killed by drunk drivers when he was four, and plagued by bad luck. When he is hit by lightning while playing Goofy Golf, his friend Gen manages to save him, and he suffers few ill effects. He does find that his luck seems to have changed. He wins carnival games, his toast comes out okay, and his grandfather's business improves. However, the more good luck he gets, the more people around him give him a hard time; his grandpa wins a new truck and people actually sabotage it! Gen sticks by his side, although she is very concerned for the turtles on the local beach. When there is a hurrican, the beach side community battens down, but Gen is struck by lightning, saved by Nate, and in a coma. The townspeople help out the turtles on her behalf, and she eventually recovers.
Strengths:
I loved
The Dogs of Winter
(even though it was a bit sad) and
A Dog's Way Home
. This had the possibility of being really good and happier than many things once Nate's luck changed...
Weaknesses:
but then it got all depressing again. Even the supporting characters, like Chum, have too many problems. The grandfather says things like "I'll be dipped and fried". The turtle aspect would have been a hit with science classes studying biomes and habitats, but this is just too sad a book.