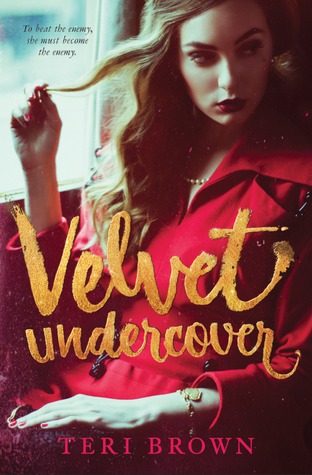 Brown, Teri.
Velvet Undercover.
October 20th 2015 by Balzer + Bray
E ARC from Edelweiss Above the Treeline
Samantha Donaldson's family lives in England at the time of WWI, and she and her mother are worried that her father hasn't been heard from and is feared missing. When she nearly wins a Girl Guide competition, where she has excelled in all manner of things, including knowledge of foreign languages, she is approached by a spy organization, La Dame Blanche to be one of their operatives. She is a little conflicted, knowing that if she joins the organization and goes to spy in Germany, she might well die. Captain Parker persuades her, however, by mentioning that he might be able to help locate her father if she is willing to help him. After accepting, Samantha is trained by her "handler", a talented spy named Letty Tickford, who teaches her the finer points of codes, being followed, and disguising oneself. She does well, and is soon sent to Luxembourg to take on the identity of a young woman who has died in order to infiltrate the royal household and extricate a fellow spy. Now Sophia von Schonburg, she must memorize her backstory, locate the operative known only as "Velvet", and serve as governess to the children of the family as well! Samantha soon finds out that her assignment is quite dangerous when her fellow teacher is killed, and she must decide if she can trust one of the German soldiers, Maxwell, in order to survive and to possibly find her father.
World War I has been under represented in young adult fiction in the past, but seems to be a rising trend, perhaps because of interest in television programs like
Downtown Abbey
or
The Crimson Field
. Spy stories are always a good bet, and this had plenty of historical details as well as a pulse pounding undercover assignment.
My favorite part of this was the fact that Samantha learns that the world is not all black and white. The war is not necessarily divided into "us" and "them". This makes it hard to know whom she can trust, but she is young enough that she can still see Germans as good people, no matter what her government tells her. It helps that she spent some time in Germany as a child and has good memories of being there. Her struggles in assessing her feelings and weighing them against her loyalties to La Dame Blanche as well as her country are realistic and poignant.
Readers of spy adventure mysteries like Lee's
The Body in the Tower
as well as Carter's
The Gallagher Girls
will be enthralled with this story of divided loyalties, romance, and intrigue set against the backdrop of upper class society during World War I.
The only thing that didn't thrill me about this book was the cover. I would have rather seen a silhouette of a girl in WWI era clothing set against the background of a Luxembourg street of that era. This cover looks too modern.