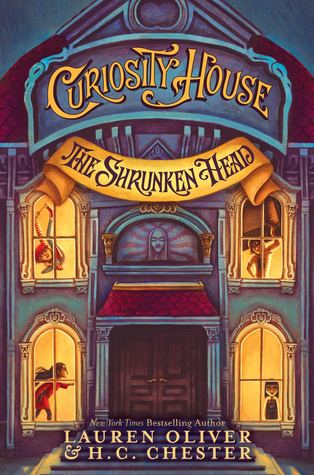 Oliver, Lauren. and Chester, H.C.
The Shrunken Head (Curiosity House #1)
September 29th 2015 by HarperCollins Children's Books
ARC from Meagan Beatie Communications
Sam, Thomas and Pippa work at Dumfrey's Dime Museum of Freaks and Oddities in New York City. It is one of the last dime museums operating in the 1930s, and has live performances as well as displays of "curiosities". When Mr. Dumfrey buys a shrunken head, odd things start to happen. A woman falls from the balcony and is killed, and Bill Evans, a reporter, blames the head in a sensational news article. A new girl, Max, shows up hoping for work at the museum and is taken in right away, due to her ability to throw knives. When the shrunken head goes missing, the children try to investigate. The head was bought at Mr. Anderson's antique shop, but when they go there, they find Mr. Anderson hanged, and work out that it was not a suicide. They think that one of the workers at Dumfries, Mr. Potts, might have been involved in the disappearance, and he shows up poisoned with cyanide. This leads to more news articles, and more interest in the museum. The children want to figure everything out because they are very grateful to Mr. Dumfrey for saving them from a life on the streets, even though a woman from a children's home is trying to get them to come and live with her. In the end, an unlikely villain emerges, and Mr. Dumfrey gives more details to the children about themselves.
Strengths:
For readers who have an interest in rough-and-tumble street urchins at differnt points in history
his was a more accessible book than Blackwood's
Curiosity
, which had a similar setting. It also felt a bit like Nicholson's
The Magician's Fire.
The ensemble cast worked well, and the different abilities (light mind reading, super strength, super agility) of the children didn't seem too contrived. The best part were probably the New York City underworld setting and the puzzle of how the murders were related.
Weaknesses:
I wish that the 1930s setting had been established early on. I was able to work it out about halfway through the book (the Great Crash was mentioned, as was the Spanish Flu), but students won't necessarily pick up on that and won't be able to place the time period.
What I really think
: Good murder mystery which reminded me a lot of the BBC show
Inspector Lewis
, since there were a whole string of related murders. The historical setting makes this a harder sell to middle grade readers, however.
Segel, Jason and Miller, Kirsten.
Nightmares! The Sleepwalker Tonic (#2)
September 8th 2015 by Delacorte Books for Young Readers
Charlie is still living in a purple mansion that is the portal to the Netherworld. His stepmother is still running the Herbarium, and things have quieted down a bit since the nightmares took over their town in the first book. However, there is a creepy guy wandering around selling a sleeping tonic that is turning people into zombies. After going to the nearby town of Orville Falls with his friends to visit Paige's aunt, they notice that way too many of the citizens there are zombie like. They need to unravel the mystery and find out who the sinister tonic seller is... especially since he is also trying to buy Charlie's house, which has been in the family for 150 years.
Strengths
: Cool setting, with the stepmother's business, the purple mansion, and the portal to the Netherworld. Charlie is a decent character, and the ensemble cast is strong. Zombies are always popular.
Weaknesses
: Just couldn't connect with these for some reason. First book has circulated decently.
What I really think
: Probably buy because there aren't as many creepy books in series, but I wish more readers would pick up Grabenstein's
The Crossroads
series.