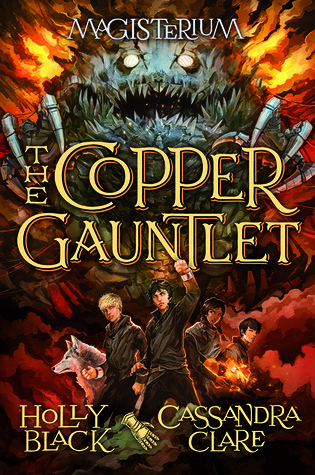 Black, Holly and Clare, Cassandra.
The Copper Gauntlet (Magisterium #2)
September 1st 2015 by Scholastic Press
E ARC from Edelweiss Above the Treeline
In this sequel to
The Iron Trial,
when Callum is home from school for the summer, the only bright spot is Havoc, the Chaos-ridden hound he brought with him. His father, Alastair, is nervous about others finding out about Havoc, and when the dog runs away, Call is determined to find him. What he doesn't expect to find are detailed plans of how his father wants to find the Alkahest, a magic gauntlet, and use it to cure Callum of being ... the deep, deark secret that is revealed in the first book. Don't want to spoil it. Callum runs away to Tamara's house, where he is hosted in very luxurious style. When school begins, he and Aaron and Tamara find out that the Alkahest has been stolen. Fearing not only for his father, but also for his friend Aaron, who as Makar could be killed by the Alkahest, he attempts to go after his father, whom he believes is hiding out in a remote barn he has rented. Tamara and Aaron want to go with him, and the group picks up Jasper as well. The group encounters a number of former members of the Magisterium faculty, and it's hard to determine who is really on their side. It's hard enough for Call to know if he is himself working on the side of good! Eventually, the group locates Alastair, but will they be able to retrieve the Alkahest without Aaron, Call or Alastair succumbing to it?
Strengths
: This was MUCH better than the first book. Call isn't as bratty, and the time spent outside the Magisterium was more enjoyable and made more sense. The look at Tamara's family was quite intriguing. There was a clear mission (find Alastair and the Alkahest), an action-filled journey, and interesting key details added to Call's story. It was an amazing piece of writing in that it evoked the FEELING of Harry Potter without really being like it at all. Definitely glad to have this series for Harry Potter fans who don't want to read anything else. Nice light romance, too.
Weaknesses
: The lichen-based food served at the school doesn't add anything to the story. The whole point of having food in a book is so that it sounds GOOD and comforting. This food just makes the gorge rise.
What I really think
: Curious to see what
The Cosmos Blade
is like. The
whole series
seems to be mapped out already!