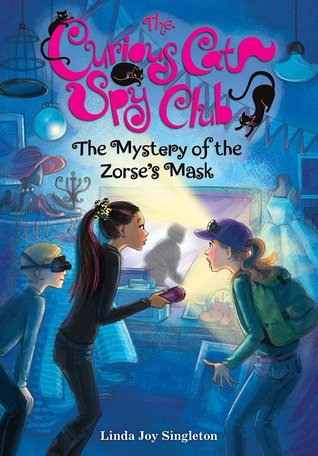 Singleton, Linda Joy.
The Mystery of the Zorse's Mask (Curious Cat Spy Club #2)
September 1st 2015 by Albert Whitman
E ARC from Netgalley.com
Kelsey, Becca and Leo are back, and this time they are worried about Zed, the zebra/horse mix that brough Kelsey and Becca together. Zed had come to Becca's mother's animal sanctuary after having been abused, but there has been someone claiming to be the zorse's owner. Caleb Hunter claims that the animal was the last gift given to his ailing mother from her husband, and he wants to return Zed (whom they called Domino) to her in hopes that it will perk her up. Becca's mother grudgingly agrees, but the CCSC is suspicious. Caleb also really wants the elaborate, jeweled fly mask that Zed was wearing when found, and won't leave town without it. It's gone missing, which gives Kelsey a few days to figure out if Caleb was the man who abused Zed. The mask supposedly went to the local thrift store, and then to the middle school theater department, and takes some tracking down in order to find. In the meantime, Kelsey manages to contact Caleb's sister to get the real story. Will it be soon enough to save Zed?
Strengths
: This had a nice ensemble cast, some action and adventure at the end, and other relevant problems, such as Kelsey's family living in an apartment after her father loses his job. I really liked the small town, out west setting. Readers who like animal stories, or Runholdt's
Kari & Lucas
mysteries or Beil's
Red Blazer Girls
will find this interesting.
Weaknesses
: Again, Kelsey is very concerned about being part of Becca's "cool" group, which even has a name, the Sparklers. Seemed a bit much to me. Leo isn't featured as prominently, which is a shame.
What I really think
: Not the type of mystery I like best, but I have a lot of students who enjoy this type of story.
Lawson, Jessica.
Nooks and Crannies.
June 2nd 2015 by Simon & Schuster Books for Young Readers
Tabitha is an abused and neglected child whose parents ware more concerned with social climbing and their bank account. Her only friend in the world is Pemberley, a mouse she carries in her pocket. When she receives an invitation, with five other children, to the country home of the reclusive Countess of Windermere, her parents decide to attend the gathering instead of taking off to South America and leaving Tabitha at an orphanage. Once there, the odd group of disparate children must deal with the supercilious butler, Phillips, as well as the somewhat dangerous countess. There is an elderly maid, Mary, who has suffered a stroke; apparently, the children have all been adopted, but one is the countess' grandchild. When Mary dies (and is stored in the garden during a snow storm, which would definitely traumatize some younger readers), Tabitha realizes that she must investigate matters in the way that her favorite fictional detective, Pensive, would.
Strengths
: Decent mystery with a twist, and a manor house with undetected secret rooms. Had a very British/Roald Dahl feel with a hint of Lemony Snicket. Fans of Maryrose Wood's
Incorrigible Children
series would like this.
Weaknesses
: This is the first year that the Snicket has been almost completely ignored, and it's very hard in my library to find readers for this sort of thing. I found it hard to believe that Tabitha's parents were as mean as they were, and her relationship with the mouse was a bit odd.
What I really think
: Probably won't buy for my library, but I can see this being read.