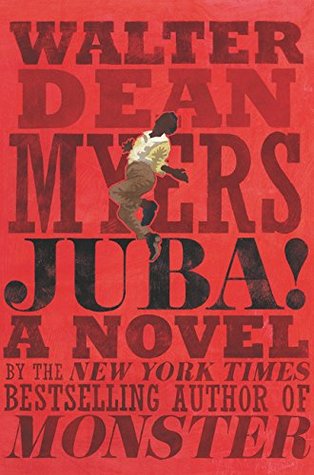 Myers, Walter Dean.
Juba: A Novel
October 13th 2015 by Amistad
ARC from
Young Adult Books Central
Based on a real person, this novel starts in New York City in 1842. William Henry Lane, who calls himself Juba, lives in a room rented to him and Stubby by elderly Irish fishmonger Jack. Stubby loves to cook and does well with assisting Jack in going door to door to sell fish, but Juba just wants to dance. He has some luck in a variety of Irish run nightclubs, but does not want to do minstrel shows or "blacken up" his act. It's bad enough that there is slavery in parts of the U.S. and that black entertainers are considered third class. When he is given a chance to arrange a show, he puts together one with the help of a neighbor lady, and is brought to the attention of the traveling Charles Dickens, who mentions Juba in his book about his travels. Soon, Juba is approached about touring in England with a group of black entertainers who are trying to move beyond the minstrel show. Juba decides to go, and enjoys his life in England, although employment is not always easy to find. He is glad that he doesn't have to worry about being sold into slavery, and claims to be from Barbados so he is not an alien. He eventually marries Sarah, and has some acclaim as a dancer, but ends up ill and in a work house at the end of his short life.
Strengths
: This was an interesting look at the entertainment industry in New York City, and good coverage of a rather neglected time period. This is clearly well researched and a good addition to historical novels about African Americans that are not about slavery or Civil Rights. The inclusion of pictures and artifacts adds interest as well.
Weaknesses
: Middle grade readers may need some background information to fully understand this. For example, many will not know that black Americans were free in New York during this time. They also may not understand the role of the Irish in the city's history, or why so many Irish were there. I can't think of any nonfiction books (other than
Black Potatoes
) on these topics that would help, so students should just read the end notes first!
What I really think
: This was a little hard to get into at first, but I think I will buy the book since it does cover an interesting time period and topic.