Klass, David. Losers Take All
October 20th 2015 by Farrar, Straus and Giroux (BYR)
E ARC from Edelweiss Above the Treeline
Jack Logan's school is nuts about sports, to the extent that their 70 year old principal tries to break a record at the yearly "senior run", outpacing several of the high school senior athletes before dropping dead of a heart attack on the field that is named posthumously for him. To replace him, football coach Muhldinger is elevated to the position, and his first act is to proclaim that all seniors must participate in a sport. This doesn't make Jack happy. He's happy just getting by, trying to avoid the shadow of his father and older brothers' athletic prowess. His friend Becca isn't thrilled, either-- she just wants to work on her college essays and get into Harvard, thereby escaping the drama of her parents' fights. Along with several other unathletic friends, Jack and Becca manage to talk the part time Latin teacher into coaching their low level soccer team. Their change to fly beneath the radar is blown when they lose a game spectacularly and a video is posted online of game highlights, which include Jack making a goal and Muhldinger ranting at the team about their incompetence. It also doesn't help when Rob is badly beaten, and it is likely that his attackers were members of the football team. Jack is at odds with everyone-- his father, Muhldinger, and the football team. He is also good enough at soccer that he is asked to play on a men's team in a neighboring community, which makes him rethink, for a second, the philosophy of his new school team, which is to lose as badly as possible. The team becomes an internet sensation, and news reporters descend, some of them rooting up old secrets about Jack's father and Muhldinger. Jack is confused about a lot of things, but not about Becca, whom he likes a good deal. Will the "losers" cling to their legacy of bad sportsmanship, or will they come to an understanding about the true meaning of competition?
Strengths: First of all, I deeply appreciate the lack of vulgar language and high school situations in this. Since it is about seniors in high school, I was wary. This was quite brilliant on so many levels. Yes, many schools are excessively interested in sports, but the levels on which this affects Jack are brilliantly portrayed, even more so because he starts off being content not to care too much. The relationship with Becca is fantastic, because the two are very equal and play on the same team, AND they ride bikes everywhere! Double bonus points for best and most realistic high school Latin teacher in teen literature, even if Percy writing a sonnet to Becca is a bit creepy. Grandmaster has been hugely popular with a wide range of my 8th grade boys, and I think this one will be as well.
Weaknesses: Are basic school policies different on the east coast? Perhaps they are. I don't see Muhldinger being made principal unless he had his license, and the move to require all seniors to participate in a sport would take many months to hammer out with a school board in reality. Artistic license, I suppose, but that sort of detail always bothers me.
What I really think: I've always enjoyed Klass' sports books, but until I finished this one, I didn't fully understand how deliciously subversive his sports books are! It makes me want to go back and reread Danger Zone, although I remember that Wrestling with Honor also had that facet. Highly recommend for both middle school and high school readers!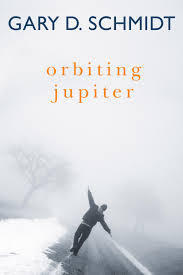 Schmidt, Gary D. Orbiting Jupiter
October 6th 2015 by Clarion Books
E ARC from Edelweiss Above the Treeline
The Hurd family, including 12-year-old Jack, takes in Joseph Brook as a foster child, even though he almost killed a teacher at a juvenile detention facility after getting drugs from another inmate. Joseph also has a baby daughter he would desperately like to see. Jack is very understanding of Joseph, walking with him to school when the bus driver is rude, keeping him as safe as he can from bullies, and rescuing him from the ice after an ill-advised incident on new ice. Joseph does well under the family's care, even though his abusive father gets a lawyer to have him granted visitation. The father also wants to get money from the Jupiter's mother's family before he will give up parental rights, since Joseph is a minor. Joseph manages to get enough information to find out where Jupiter is, and Jack helps him, but things do not end well on any level at all.
Strengths: Schmidt does well at revealing secrets of the past slowly, so I don't want to spoil the book. He also is a great writer, and the cold of a winter in Maine is palpable, as is Joseph's grief. I'm sure that many teachers and librarians will consider this a book that touches their hearts and changes them forever.
Weaknesses: I didn't quite believe that the bus driver, principal, etc. would be so mean about Joseph. Certainly, there are teachers who wholeheartedly support him, and that's a nice touch. I guess we have to have the mean teachers and school bullies for narrative tension. I also had the same problem with this as I had with Lowry's Son: I can't imagine that a teen boy would care so much about seeing a child. After all of the abuse and sadness in his life, you would think he would be content with the Hurds' love and attention, but again, that wouldn't make much of a story. Also, if Jackson's mother protested the Vietnam War in college, she would have been about 50 when Jack was born, if the book is set right now.
What I really think: Very, very sad, but in a way that I don't think will appeal to my students. Plus, I didn't cry at the end, because I figured out the minute the Hurds starting talking about a college fund what would most likely happen.
Harmon, Michael. Stick.
August 4th 2015 by Knopf Books for Young Readers
Speaking of gratuitous language, if you see this book, keep the following in mind:
Great premise (player wanting to quit because father is putting too much pressure on him); unlikely but believable friendship, fantastic cover, and gratuitous f-words. Harmon is an engaging writer, but I don't buy his books because of the language.
Definitely buy for high school, but since the book is also more philosophical than middle grade readers tend to like, I am going to pass on purchasing this for middle school.
From Goodreads.com
"Stick" is the best wide receiver in the history of his high school—the football seems magnetically drawn to his hands, hence his nickname.
Preston is an outcast, and his pipsqueak stature and nerdy social status couldn't be further from a star athlete's.
Stick puts on his football uniform every week to make others—his teammates, his dad, everyone but himself—happy, but he's fallen out of love with the sport and feels that he's lost control of his future.
Preston puts on his homemade superhero costume every night to help others, too: to avenge his father's murder, he's determined to right the wrongs he sees in his neighborhood and regain control of the flawed world he sees around him.
A twist of fate brings this unlikely pair together in a friendship that is as odd as it is true. Each can see the other better than he can see himself, and in these unexpected reflections lies a chance for mutual redemption