Hart, Alison.
Finder: Coal Mine Dog, 1909
October 2015 by Peachtree Publishers
ARC from the publisher
Thomas' father perished in a mining accident, so when his mother became ill and died, he ended up with his aunt and uncle. His uncle works at the coal mine and does a lot of hunting to keep the family in food. Finder is a mountain cur, a replacement for uncle's hunting dog, Daisy. Unfortunately, Finder is gun shy, so is not at all helpful in flushing or retrieving game. Times are hard, so Finder will be returned, and Thomas is going to have to work in the mines. His father, who moved to West Virginia from Chicago, wanted to be a photographer, and Thomas still has his Brownie camera. Thomas' father didn't want him to end up in the mines, but there is no choice. Thomas is sent down to dig out coal and load it on carts. He is slow, so doesn't earn much money to pay off his parents' debts. Finder is sent to help pull the cart and make things go more quickly, but when there is a fire in the mines, Finder ends up being more helpful that anyone could have realized. Based on a true story.
Strengths
: Hart does interesting books about dogs in different historical settings, and this one, set in Appalachia, is particularly interesting. Students today don't quite understand how difficult children had it in the past, and Hart's depiction of life in the mines is very vivid. The notes at the back helped a lot, and the diagram of a coal mine was very useful to me! I always wondered how mining worked.
Weaknesses:
Thomas worries about getting black lung disease at one point, and I don't know that workers used that term in 1909. Minor quibble.
What I really think
: This is a great book to hand to students who are complaining that their parents won't buy them the latest phone, or that they have too much homework!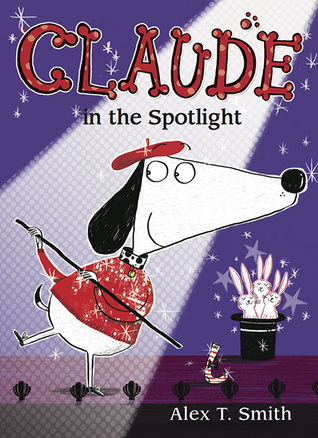 Smith, Alex T.
Claude in the Spotlight
September 1st 2015 by Peachtree Publishers (first published April 1st 2013)
Copy received from the publisher
In this sixth book in this British series, Claude, a rather roly poly dog who likes to wear a beret and has a sidekick called Sir Bobblysock (who is, in fact, a sock) happens upon a group of young dancers, follows them to their practice studio, and after getting a fly up his sweater that makes him dance maniacally around the room, is invited to enter a dance competition. He isn't too sure about this, but when he finds out that the prize is a a supply of cakes from Mr. Lovelybuns' bakery, he decides he might as well. The competition is sabotaged by a ghost, but Claude has done his reading and is able to diffuse the threat. Now if he can just keep Mr. and Mrs. Shinyshoes from realizing how all of the cakes got into the house...
Strengths:
This is an excellent book for beginning readers, slightly reminiscent of the Eve Titus' Basil of Baker Street (1958) series. I adored these in first through third grade. The pictures are appealing, Claude's antics are giggle worthy, and the text is just long enough to help readers transition from picture books to chapter books. A good purchase for an elementary school.
Weaknesses
: My struggling 6th grade readers could use books of this length, but there is no way they will go for characters named Sir Bobblysock and Mr. Lovelybuns!
What I really think:
I need another cup of tea. And, if I lived in England, people would be offering me tea everywhere I went. Must think about this very hard.
Soderberg, Erin. Stowaway: Puppy Pirates #1)
July 7th 2015 by Random House Books for Young Readers
Copy provided by
Young Adult Books Central and reviewed there
.
Wally, the adorable puppy on the cover, has run away from the farm in search of a home... and adventure. When he sees a pirate ship in port, he seizes the opportunity to stow away, hopping into a crate filled with steaks! When he gets into the cargo hold, he meets Henry, a human boy who also wants to embrace the life of a pirate. When Captain Red Beard and the cook, a Chihuahua named Steak-Eye, find the pair, they are prepared to make them walk the plank! Luckily, they are saved by Old Salt, a seasoned veteran who believes the two should be given a chance. When the
Salty Bone
is attacked by the kitten pirate ship
Nine Lives
, Wally and Henry manage to save the day and are made part of the crew.
Stepping Stone Books are a great choice for emergent readers who have moved beyond simple text and can handle a longer book. At just under 100 pages, Stoway is a great choice for readers who like dog books like Ilene Cooper's
Absolutely Lucy
series, or who like fantasy adventure books like Osborne's
Magic Treehouse
saga.
While we are not told why Henry has run away, he makes a good point for his inclusion on the ship by reminding Red Beard that he has thumbs. Wally's motivation is clearer-- he wants somewhere than he can feel at home. Once he earns his keep on the Salty Bone, he has lots of friends on the crew, and since every good dog needs a boy, it's a good thing that Henry has also decided to stow away.
There are many good comic characters: sisters Piggly and Puggly are always getting into scrapes, Captain Red Beard makes mistakes that readers will laugh at, and Steak-Eye is such a bad cook that his food for the dogs is improved by the addition of a can of cat food!
Throughout the story, Wally tries to prove his worth and ends up showing that his loyalty and skills and skills will make him a valuable member of the crew. Young readers who spend their days wearing tri-cornered hats and eye patches will find Stowaway to be a mARRRRRvelous read.
This is too young for struggling middle school readers, however. The covers look too young, and I just don't see my 6th graders vibrating to there.
Soderberg, Erin.
X Marks the Spot (Puppy Pirates #2)
July 7th 2015 by Random House Books for Young Readers
Copy provided by
Young Adult Books Central and reviewed there.
The crew of the Salty Bone is back, and Wally and Henry are glad to be part of the crew. It is rumored that Captain Red Beard has the map to Growlin' Grace's treasure, and sisters Puggly and Piggly are determined to steal the map. They don't succeed, but since the Captain is confused as to why the map is blank the group is consulted. Luckily, Henry's human skills and knowledge help them uncover the invisible ink, and the ship is soon off to find the treasure. When they arrive at the island, the soon meet Rosie and her crew of Dalmatians who guard the treasure. Henry and Wally are able to circumvent the booby traps and solve the puzzles that Grace left, and Rosie grudgingly lets them dig up the treasure. While it isn't jewels, the treasure is valuable and will take the Salty Bone on their next adventures,
Catnapped
and
Sea Sick
, which will be out in January and March, 2016.
Young readers will enjoy pointing out all of the mistakes that Captain Red Beard makes, and will secretly delight in how naughty the pug sisters are. Old Salt, whose wisdom often saves the day, offers advice to Wally and Henry, who know that they need to think clearly about the challenges that face them.
Buried treasure holds a huge appeal for some readers, and if holes are dug in yards and favorite stuffed animals are buried after children read this book, Soderberg is not to be blamed! I also foresee a lot of maps being created by children who liked James'
Pirate School
series or have graduated from Long and Shannon's
How I Became a Pirate
.