Smith, Sherri L. The Toymaker's Apprentice
October 13th 2015 by G.P. Putnam's Sons Books for Young Readers
ARC from Baker and Taylor

Stefan Drosselmeyer has decided to run away after the death of his mother. He has been an apprentice to his toymaker father, but wants to be a journeyman to a different craftsman so that he can work some of the new clockworks into his toys. When a long lost cousin, Christian, shows up and Stefan's father is kidnapped by mice, Stefan decides to help Christian with his mission. In Boldavia, Christian created a huge advent calendar with clockwork figures set in the side of a mountain, but his digging disturbed the kingdom of the mice. The queen of the mice has bitten Princess Pirlipat, who has turned to wood. Christian was sent with the court astrologer, Samir, to find the krakatook nut, which will cure Pirlipat. Stefan manages to find one in an unlikely place, and the group sets off back to Boldavia, but Christian is killed. In the meantime, a seven headed son was born to the queen of the mice, and Ernst, an accomplished, multilingual rat, is engaged as their tutor. Stefan's father is being held in captivity by the mouse queen. Stefan manages to cure Pirlipat but manages to anger the queen, get bitten, and kill the queen in his fall. Can a trip back to Nuremburg find a cure for Stefan, and can the war between the Boldavian mice and humans be won by either side?
Strengths: This is an adventure set in the Napoleonic Era, which is slightly before the Regency era. Lots of interesting period details about Nuremberg, apprentices, and clockworks. Steampunk aficionados might find enough inventions in this one to keep them happy. Also, even though the talking mice are sort of on the side of evil, Redwall fans might like this as well.
Weaknesses: Just not my cup of tea, although Smith's writing is very good. I prefer her Flygirl.
What I really think: I'm not a fan of sentient mice, but this was an easy to read tale. Can't say that anyone has ever asked for a middle grade retelling of The Nutcracker, but this would be a great one for ballet students who want to have more of the backstory.
Papademetriou, Lisa. A Tale of Highly Unusual Magic.
October 6th 2015 by HarperCollins
E ARC from Edelweiss Above the Treeline

My love of books set in India or Pakistan came up against my dislike of books about magic books. I enjoy Papademetriou's realistic fiction, but her fantasy books don't work for me. This had some great multicultural aspects, but lost me with character names of Ralph T. Flabbergast and Edwina Pickle. And the thing with the moths.

If magical realism is popular in your school, definitely take a look at this.

From Goodreads:
"Bestseller and author of the popular middle grade series Confectionately Yours Lisa Papademetriou is back with a magical, page-turning adventure for readers of all ages—a touching tale about destiny and the invisible threads that link us all, ultimately, to one another.

Kai and Leila are both finally having an adventure. For Leila, that means a globe-crossing journey to visit family in Pakistan for the summer; for Kai, it means being stuck with her crazy great-aunt in Texas while her mom looks for a job. In each of their bedrooms, they discover a copy of a blank, old book called The Exquisite Corpse. Kai writes three words on the first page—and suddenly, they magically appear in Leila's copy on the other side of the planet. Kai's words are soon followed by line after line of the long-ago, romantic tale of Ralph T. Flabbergast and his forever-love, Edwina Pickle. As the two take turns writing, the tale unfolds, connecting both girls to each other, and to the past, in a way they never could have imagined.

A heartfelt, vividly told multicultural story about fate and how our stories shape it."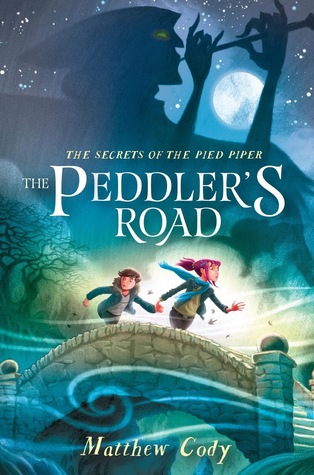 Cody, Matthew.The Peddler's Road (The Secrets of the Pied Piper #1)October 27th 2015 by Knopf Books for Young Readers
E ARC from Netgalley.com

I had high hopes for this one. I had to deaccession What Happened in Hamelin by Gloria Skurzynski (Random House, 1993) because it was never read and smelled pretty funky, but I had to wait to weed it because there was a language arts teacher who adored it. This left me short of Pied Piper tales, and fairy tale adaptations do okay, especially with aforementioned LA teachers.
This one had its moments, and I was fairly engrossed for about half the book. I liked that the family was living in Germany, and had a nice older lady helping out, but I didn't like Max all that much. Once they started on the peddler's road and started meeting ghosts, and the brother ends up with Baba (or Grandmother) Yaga, it seemed hard going. Take a look if this sounds appealing; the fact that it is the first book in a series also dissuaded me. Still not getting the fantasy readers I once had. I could have sold this as a stand alone, but not as yet another fantasy series.
From Goodreads.com:
It is said that in the thirteenth century, in a village called Hamelin, a piper lured all of the children away with his magical flute, and none of them were ever seen again.
Today tough, pink-haired Max and her little brother, Carter, are stuck in modern-day Hamelin with their father . . . until they are also led away by the Piper to a place called the Summer Isle. There they meet the original stolen children, who haven't aged a day and who have formed their own village, vigilantly guarded from the many nightmarish beings that roam the land.
No one knows why the Piper stole them, but Max and Carter's appearance may be the key to returning the lost children of Hamelin—and to going home themselves. But to discover the secrets of the Piper, Max and Carter will have to set out on a mysterious quest down the dangerous Peddler's Road.