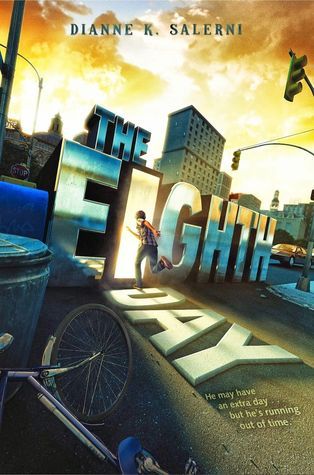 Salerni, Diane E.,
The Eighth Day
April 22nd 2014 by HarperCollins
Jax is not happy living with Riley after the death of his father, but he has been told that Riley has guardianship even though friends of the family were taking good care of him. Riley rarely has enough food in the house, and is too young to be really nuturing. When Jax wakes up one morning and finds no one around, even when he breaks into Walmart and carts supplies, he has visions of all sorts of post apocalyptic fates... until everything is normal the next day. It turns out that on his 13th birthday, Jax has developed powers. Riley also has these powers, which is why he is Jax's guardian, and Riley is also the protector of Evangeline, who lives next door in Mrs. Unger's house but only appears in Jax's world every 8th day. She is glad to finally have some human interaction after being alone for five years (35 in Jax's world), but Jax manages to set into play a series of events that will lead to the end of the world, since Riley, Evangeline, and all of the people involved are descendents of King Arthur and the Knights of the Round Table.
Strengths
: Charlotte at
Charlotte's Library
and
Akossiwa
at her blog both really, really liked this. It had a lot of action and adventure, and the eighth day is a fresh and innovative concept. Readers who like MacHale's Pendragon series or other mythologically based fantasies will enjoy this. There is a sequel in the works.
Weaknesses
: Orphan who gets powers upon hitting puberty? Check. Ancient secret powers? Check. Imminent end of the world that can only be prevented by teen protagonist? Check. I was much more interested in the smaller picture, and thought this would have been more interesting if we delved into Evangeline's world, sort of like West's
The Shadows
, but this took a much more adventurous turn. If I need more fantasy books, I'll certainly order a copy, but right now I have a much bigger need for more football books. Luckily, we have an awesome public library where this is available.