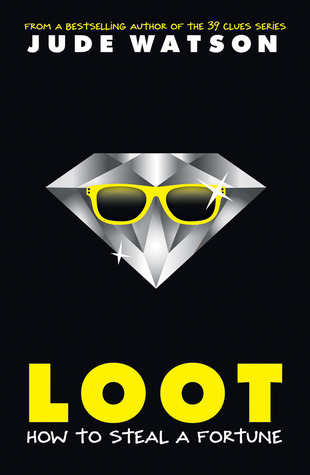 Watson, Jude.
Loot.
June 24th 2014 by Scholastic Press
E ARC from Netgalley.com
March McQuinn is used to a life on the run, since his mother is dead and his father is the infamous Alfie McQuinn, the jewel thief. While in Amsterdam, pulling a heist, Alfie dies in a graphic fall, and March knows he has to leave. Unfortunately, he gets caught, and ends up back in the states in a group home with Jules, a street performer he has met in Amsterdam and with whom he shares a bond. There, he meets the hulking Darius and the quiet Lizzy, both of whom have valuable criminal talents. Jules and Alfie are approached by Carlotta Grimstone about stealing back seven moonstones that Alfie has taken from her. This crime had a horrible impact on the lives of Alfie, March, and Jules, but March already has one of the stones, as well as a list his father left with a backpack of clues. The group realizes that a former colleague of Alfie's, Oscar, is trying to get the stones back for Carlotta as well, and try to get a jump on him. They do so with great elan, breaking into buildings, impersonating school children, and generally being great master criminals. But the stakes are high, and it's hard to know whom to trust, especially when the moonstones have a dire curse attached to them. All March really wants is a family and a home; selling the moonstones could get him the money to provide this sort of life, but will the stones also take away the family he has created for himself?
Strengths
: What fun! I never know quite whether I want to be an international spy (ala Mrs. Pollifax or the Gallagher Girls) or an international terrorist and/or jewel thief. I adored Donald Westlake's Dortmunder novels, and this was highly reminiscent of those. All of the characters were well drawn and sympathetic, even with the faults and eccentricities (I especially liked the New Age fence, Hamish). Darius is incidentally black, and although he balks a little at being used in roles as gardeners or delivery men in ritzy neighborhoods, nothing else is mentioned. He also isn't "into girls", and again, this is not dwelt upon. Pure adolescent fantasy, although I would also say that this whole book belongs in fantasy, due to the involvement of the moonstones and the heavy use of their magical powers in the story.
Weaknesses:
This starts off with Alfie's very disturbing death; I could have done without the sound effects. While March soldiers on admirably, he could have been given just a tiny bit more time to grieve. At least in the end he meets a friend of his father's and is allowed to have a moment.
Fun fact: Jude Watson also writes as Judy Blundell.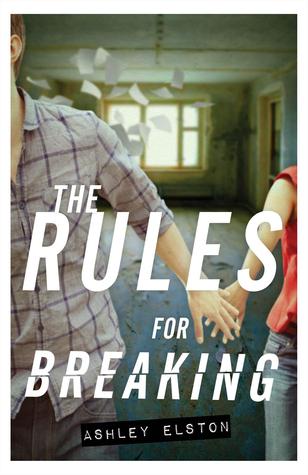 Elston, Ashley.
The Rules for Breaking
Published May 20th 2014 by Disney Hyperion
This sequel to
The Rules for Disappearing
was one I was waiting for, but Anna spends so much time being held hostage in really unpleasant circumstances that I didn't care much for it. I will definitely buy it, though, because it was good, and my readers love scary/problem novels. It just was a bit dark for a nice summer afternoon!
From Godreads.com
"
Anna Boyd almost lost her life to get what she wanted most in the world: freedom.

But just when it seems that her family has finally escaped Witness Protection, the illusion that Anna could resume a normal life comes crashing down.

The deadly man Anna knows as Thomas is still on the loose, and now he's using her as a pawn in a dangerous game with the drug cartel determined to silence her forever. When Thomas and a mysterious masked man capture not only Anna but also her fragile younger sister and her boyfriend, Anna decides it's time to break all the rules-even if it means teaming up with the lesser of two evils.

Anna will do whatever it takes to protect the people she loves and win her life back once and for all. But her true enemies are hidden in plain sight. Before long, Anna will learn that putting her trust in anyone may be the last mistake she ever makes."