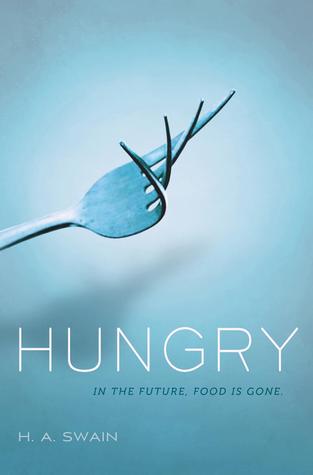 Swain, H.A.
Hungry
June 3rd 2014 by Feiwel & Friends
ARC from Baker and Taylor
Thalia Apple lives a life of privilege in a world where food has become outmoded. Her mother was one of the scientists who created Synthamil and innoculations to take the place of food, which has become nonexistent. Thalia is more of a Luddite, not wanting her Gizmo portable computer and preferring her grandmother's old natural fiber clothing. She also isn't keep on the One World corporation that controls all the food replacement, entertainment and, well, everything that people need. Thalia's Synthamil proportions seem out of whack, and she seems to be hungry, which is something that the drugs should prevent. When she is out clubbing with a friend one night, she walks off and meets Basil, a less privileged boy who introduces her to the smell of food and an underground movement that is against the One World movement. Thalia has been a Dynasaur hacker for years, but that only led to twitting One World—Basil is about overthrowing it. After a demonstration, Thalia and Basil end up running away, and because everyone knows who she is, Thalia has to run pretty far. The two end up at a cult like compound run by Gaia who introduces them to food and a more natural lifestyle, but she, too, likes to have power, and Thalia uncovers some disturbing facets of life there. How can she and Basil be together and enjoy life the way it was before food was a scarcity? And is it really still scarce?
Strengths: Thalia was a great character. She was nostalgic for things she had never seen but had heard about from her grandmother, but she still embraced some of the technology of her time. The world building was convincing, and Swain gets extra bonus points for designing a fresh form of dystopia. Thalia is part Vietnamese and part African American, which makes this perfect for #WeNeedDiverseBooks. It's an important part of her character, but not the main thrust of the story—even better. Her family was wonderfully supportive even if they were not always working on the side of right. Very thought provoking book, although I have to say that a world where I never had to cook would be okay with me.
Weaknesses: I liked the first half of the book much better than the second. Gaia's farm was just… odd. It was every bit as evil as One World, which left me a bit confused. The ending left room for a sequel but was a bit confusing. This may be a factor of it being a more Young Adult book where the answers are not as neatly laid out as in middle grade titles.