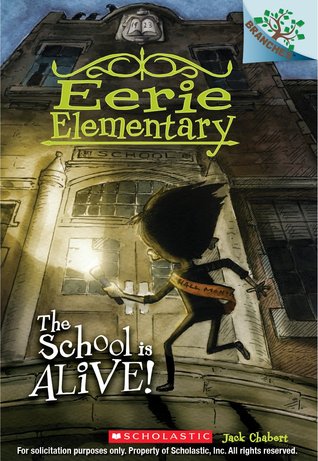 Chabert, Jack.
Eerie Elementary #1: The School is Alive
June 24th 2014 by Scholastic Inc.
E ARC from Netgalley.com
Sam is not overly thrilled that he is chosen to be hall monitor, but his friends Antonio and Lucy are supportive and offer to help out. Things get even stranger when the school starts to attack Sam and no one seems to notice that the building is alive!
The janitor, Mr. Nekobi, tells Sam that he himself was the first hall monitor, and he's kept the students safe for years, but since he is getting old, he has recruited Sam. He practices warding off the evil the school can throw, but starts to realize that the building is planning an attack on the night of the school production of Peter Pan, in which Antonio is starring! Can Sam be one of Captain Hook's sidekick pirates AND save everyone from certain death by evil locker?
Strengths: At just 96 pages long, with plentiful illustrations, this installment from the Scholastic Branches series is great for readers in first grade who are hard to keep in books! They are not dumbed down, though, so I am even debating this for my struggling middle school readers. Bonus points: Antonio is a student of color, at least judging from the illustrations. Granted, he is a sidekick, but in the classroom, tends to eclipse Sam!
Weaknesses: Spoiler alert—Sam's weapon of choice to defeat the school during the play is a giant drum of peanut butter, which then explodes over the audience. Anyone else alarmed at this?