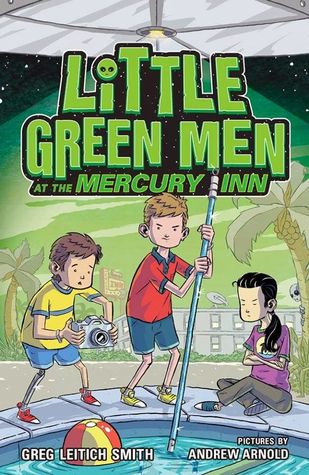 Smith, Greg Leitich.
Little Green Men at the Mercury Inn
June 10th 2014 by Roaring Brook Press
Copy from Deb A. Marshall at
Read. Write. Tell
Aidan enjoys working at his parents' Space Coast motel, even though he wishes they lived off site so they could get away once in a while. When NASA has a space clipper launch compromised by what seems to be a UFO, Aidan's summer takes a turn for the frenetic. His friend Louis has been obsessed with UFO ever since a car accident (which he claims involved one!) that left him with a prosthetic leg, so when reporter Brita and her sidekick, xenobiologist Dr. Gleeman, set up shop at the motel, he's thrilled. The guests, including Dru Tanaka, who is at the motel with her parents, and Mrs. Fleance, long-time querulous retired resident, get involved in the mania as well. It's all Aidan's parents can do to keep up with the tourists, so they turn a blind eye to some of his suspicious behavior, but the UFO threat turns out to be much more interesting than anyone imagines, and it's up to Aidan and his friends to manage it!
Strengths
: This has some VERY good twists and turns, so I don't want to give any of those away. Keep a close eye on Mrs. Fleance, though-- never underestimate a woman in a flowered bathing cap! I loved that both of the #WeNeedDiverseBooks characters on the cover have their diversity play into the story in really unusual ways. The green and black illustrations are perfect for the setting of this book. Probably the best thing about it is the FEEL of summer in a 1950s vintage motel in Florida. Like Michael Beil's
Summer at Forsaken Lake
, there's a palpable fondness to a childhood vacation spot that makes me wonder what sort of imagination the young Mr. Smith had!
Weaknesses
: Had my OWN concerns about the sanitary aspects of keeping an alien corpse in the ice maker, but it's a good touch of grossness that will appeal to the target demographic!
It's
Marvelous Middle Grade Monday at Ramblings of a Wannabe Scribe
and
What Are You Reading? d
ay
at
Teach Mentor Texts
and
Unleashing Readers.
It's also
Nonfiction Monday
at Anastasia Suen's blog.