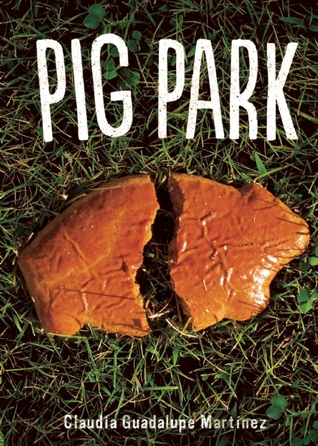 Martinez, Claudia Guadalupe.
Pig Park
July 1st 2014 by Cinco Puntos Press
E ARC from Edelweiss Above the Treeline.
Masi likes her Chicago neighborhood, but it has taken a big blow when the American Lard Company moved its business to China. Her family's bakery business has suffered, as have all of the businesses in the area. Even Masi's charter school is closing, and she will be bussed to a new school in the fall. A local businessman has come up with a good idea—if the teens in the area can build a pyramid in the local park (Pig Park, since it was donated by the lard company), the area can be turned into a tourist destination complete with museum, vaguely Hispanic clothing, and local businesses trying to cash in on visitors' dollars by embracing the culture. A couple of college students are working on the project as well, and while Masi has a huge crush on Felix, she is less trusting of Belinda, his colleague. Masi's mother, who is worn out by the struggles of the business, has decided to spend time with her parents, and is diagnosed with diabetes, and Masi begins to wonder if she will ever come home. The pyramid continues to be built, but a tragedy befalls the neighborhood.
Will Masi and her family be able to move forward, or will this tragedy spell the end for the bakery and all of Pig Park?
Strengths: This was quite a fascinating look at a small neighborhood in a big city. While cultural differences certainly played a very large part in this book, there were lots of other plots as well, which made for a satisfying mix. My favorite bit of the book was this back-and-forth on page 177 , which points out the humor as well as the variety of cultures in the book (from the E ARC):
"I'm not wearing this [peach colored guayavera]. These are the kind of shirts old men wear to baptisms and first communions. No one is going to take a guy names Nowak seriously wearing this."
"If they can make American Lard in China, and a guy named Wong can sell tacos and chicharrones, then you can wear this. It's called globalization." Belinda said.
"I'm a Chino-Latino. Get your story straight," Pedro Wong complained.
Weaknesses: There was a lot going on in the book, and while Masi's mother's fight with diabetes and family problems was interesting, for middle grade I wish there had been more about evil corporate culture trying to take over the neighborhood. There is a little of it, but having it as more of a focus would have made the book a little more exciting.
I'll still buy a copy, but being able to hand this to students as a mystery would make it a little easier to sell. (The cover is okay but not fantastic.)