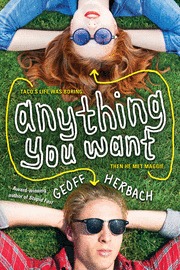 Herbach, Geoff. Anything You Want
May 3rd 2016 by Sourcebooks Fire
E ARC from Netgalley.com
Taco is an exuberant high school junior who is addicted to Maggie, a wild cheerleader whom he is dating. Her parents are less than thrilled about their relationship, which explains why he tries to climb in through her bedroom window. They are even less thrilled when he falls and breaks his coccyx. This sidelines his football career and causes him to miss some school, but Maggie's guilt ridden parents ease up their restrictions, and Maggie spends more time at Taco's house. His father has moved away for work after Taco's mother's death, and his older brother Darius spends his time drinking or working, so the two use their lack of supervision to decide to "do it". Repeatedly. Eventually, Maggie becomes pregnant, and Taco is both thrilled and terrified. He is an eternal optimist, so despite his problems, he makes plans to marry Maggie and raise their child. His problems are legion-- in order to pay off his fine for climbing Maggie's house and disturbing the peace, he is "volunteering" for Nussbaum, a local lawyer. He's also trying to keep good grades and be in the school play, but also takes a night shift job in the hospital to earn money. Maggie's behavior is erratic, Darius starts to drink even more heavily, their father isn't sending money, and Taco's world comes crashing down around him. Luckily, support comes from an unexpected source, and Taco's optimism is reaffirmed as he is able to move forward.
This is a frenetic, roller coaster ride of a book, filled with the misguided energy that only the young seem to have. Herbach is a master of the teen male voice, and Taco's personality jumps off the pages. Maggie's scattered reaction to her pregnancy, as well as her interactions with her angry but concerned parents, is also pitch perfect. The father is conspicuously absent and reticent when presence, and the adults in Taco's life are all baffled by his behavior but supportive when they figure out its causes.
The best part about this book was Taco's relentless optimism. Without it, this would have been just another depressing book about a boy dealing with death, abandonment, pregnancy, drinking and all the other sad issues, but Taco's mother imbued him with a spirit that made him able to say, even on the worst days "Today is the best day of my life, and tomorrow will be even better."
My only quibble with the book is that it is not meant in any way for middle grade readers; the language and descriptions are circumspect and perfectly appropriate for high school, but just a bit much for middle school. It seems hard to imagine that a teenager today would be as clueless about birth control as Taco is, but since there are still unplanned pregnancies, this must have some shred of truth in it. It is also disappointing that SourceBooks is issuing this only in paperback-- Herbach's writing is of the caliber that makes this an instant high school classic, and he deserves a better binding!