Even though Wish You Were Eyre was supposed to be the final installment in this series, Frederick gathers the girls for one last romp before college.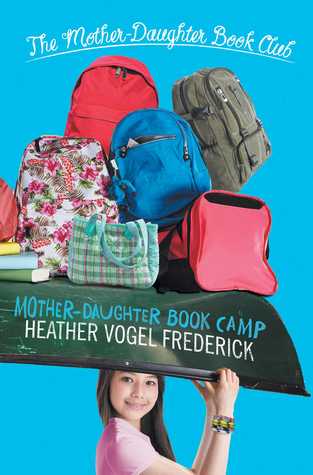 Frederick, Heather Vogel. Mother-Daughter Book Camp
May 3rd 2016 by Simon & Schuster Books for Young Readers
E ARC from Edelweiss Above the Treeline
When Jess' mother finds out that Jess' cousin is working at Camp Lovejoy and that the camp is hiring, all five of the girls go there to work as counselors. Megan, who is heading to Parson's School of design, gets assigned to the craft cabin, as does Becca, who is going to the University of Minnesota. Cassidy has a scholarship to play hockey at Boston University, and helps with swimming. Emma is working on the camp newspaper, and preparing to go to college in Canada. Jess does nature walks and is going to study at Julliard. The girls are all at various stages of their relationships with their boyfriends, many of whom live some distance from them.
After an initial reluctance to spend the summer away from Concord, the girls throw themselves into their jobs, even creating a book club for the girls who are homesick, using Understood Betsy to help the girls feel better. Typical camp highjinks ensue, and the girls all learn things about themselves and their friendships before they get ready to get on with the rest of their lives.
I enjoyed all of the details about camp-- it doesn't seem like anyone gets to spend protracted amounts of time at summer camp any more, so it's good that teens can at least read about what that was like. Vogel clearly has fond memories of time spent at summer camp, and does a great job of sharing them. The details about Understoof Betsy and Dorothy Canfield Fisher are fun-- I love that book, and hope that this will help encourage modern girls to read it.
The covers on these are some of the best around, and the series circulates fairly well. Ill definitely purchase this as the FINAL installment. My objection to the series has always been that I find it very hard to keep all of the characters straight, and since the chapters are narrated by the different characters, that is something one must do.