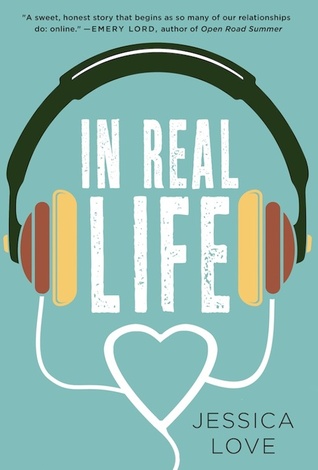 Love, Jessica. In Real Life
March 1st 2016 by St. Martin's Press
Copy provided by Young Adult Books Central
Hannah is a high school senior who has always been "the good kid"-- her older sister Grace seems to have a drinking problem, and isn't the most responsible college student. This is why when their parents go out of town for spring break, Hannah's friend Lo comes to stay with the sisters as well. Maybe not the best plan. Hannah has had the same best friend, Nick, for four years, but they've never met. Nick lives four hours away, and while they talk daily on the phone, circumstances have never worked out for the two to meet in person. After a revealing call that Nick makes to her while drunk, Hannah feels that he likes her as much as she likes him... and not just as friends. Feeling like cutting loose before the end of her senior year, Hannah decides to take a road trip to Las Vegas to see Nick's band play and to figure out how he really feels. He's hiding some things from her, and after a frenetic, frolic filled weekend on the Vegas strip, Hannah and Nick finally get each other figured out.
Hannah is certainly more careful than the characters in Hiaasen's Skink, and Grace had actually met Nick's brother Alex. The two had also talked on the telephone and knew details of each other's lives, such as what schools they attended. Hannah does not go alone to meet Nick, and they are always in public places, so I didn't worry quite as much about the issue of the two having connected with each other on line. Since internet safety is a huge concern, it was good that the author observed some of the standard safety guidelines with her characters!
This was a light, enjoyable romance. Yes, there was some tension about the dissembling that Nick did, but he and Hannah seemed to have a real connection, and it didn't take long before most of the obstacles were removed from their path. There was just enough teen angst to give the story an edge, but not enough to make it overwrought.
While there is a lot of underage drinking, as well a few Vegas style highjinks, this stopped blissfully short of becoming instructive in any area, and is middle grade appropriate even though the characters are in upper high school and college.
Fans of Dessen, Colasanti, Kantor, Jennifer E. Smith and Bloomsbury's If Only romances will find this tale of meeting Prince Charming after knowing him virtually to be a great 21st century tale.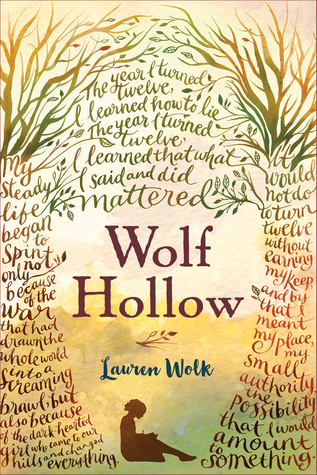 Wolk, Lauren. Wolf Hollow
May 3rd 2016 by Dutton Books for Young Readers
ARC from Baker and Taylor
Annabelle lives in a small, rural town in Pennsylvania in 1943. Her school is crowded, but she shares a desk with her friend Ruth, who is quiet and pleasant, much like Annabelle's life. When Betty Glengarry moves to town to be raised by her grandparents, that changes. Betty waits for Annabelle on her walk home, and demands money or things, and hits Annabelle when she stands up to her and refuses to give her anything. Betty also threatens Annabelle's younger brothers, and carried through with the threatened beatings. Annabelle capitulates, but even that doesn't really help. At one point, Betty hits Ruth with a rock, and the blame for Ruth losing an eye is placed on Toby, a WWI vet who lives in an abandoned smoke house and is considered harmless but potentially dangerous by the community. When Betty goes missing, Toby is again blamed, and Annabelle gets involved both in the search for the missing girl and in protecting Toby from people who mean him harm.
Strengths: This will probably win the Newbery this year. It is lyrical, has that sad, nostalgic vibe going, and feels a little bit like To Kill a Mockingbird.
Weaknesses: This is very slow paced, and uses language that adults love but younger readers (and I) find to be pointless and boring. (E.G. "At times, I was so confused that I felt like the stem of a pinwheel surrounded by whir and clatter...") That's on the very first page, where it is crucial to have "something happen" and hook middle grade readers. There is also a very disturbing scene where Betty kills a bird. While there wasn't anything inappropriate, the topics discussed require a certain maturity to understand.
What I really think: Authors of adult books really need to do their homework before switching markets. I just don't see the target demographic being interested in this book.