It's
Marvelous Middle Grade Monday at Ramblings of a Wannabe Scribe
and
What Are You Reading? d
ay
at
Teach Mentor Texts
and
Unleashing Readers.
It's also
Nonfiction Monday
.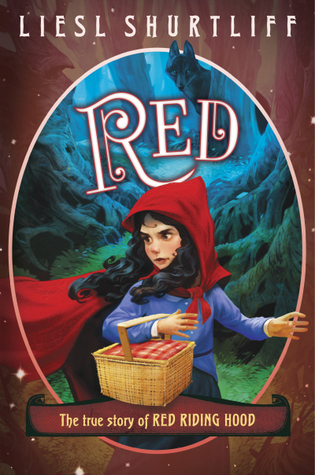 Shurtliff, Liesl. Red
April 12th 2016 by Knopf Books for Young Readers
Copy received from the publisher
Red (who is a friend of Rump as well as Jack) does not have the knack for magic that her grandmother has; in fact, when she tries to do magic, it usually ends poorly. When her grandmother becomes ill while her parents are off traveling, however, Red knows that she is the only one who can find a way to make her grandmother better, and she sets off on a quest to do so. After grabbing a dwarf by the beard and making him tell her where she can find ways to heal her grandmother, she sets off. On the way, she meets Goldie, who is a bit bratty but ultimately useful, and the two investigate a witch who has a fountain of youth in a well, make friends with a wolf of whom Red has long been afraid, and end up spending much longer with a Beast than they intended to. In the end, Red manages to cure her grandmother, but also find out a lot about herself.
Strengths: Little Red Riding Hood is one of my favorite fairy tales, and this had lots of nice twists to it. It would be a fun book to read with a class, and then watch Hoodwinked in order to compare the two. There are lots of fairy tale elements that would make for good discussions.
Weaknesses: I never did warm to Goldie and found her presence annoying. Red needed a companion, but I wish it had been someone else. Also, she just leaves her sick grandmother alone in the care of a goat? Poor choice.
What I really think: I may have to go back and reread Rump; I remember not really liking it at all, but since I enjoyed the other two books in the series (which can be read without reading the first one), I feel I owe it another shot.
Krieger, Emily. Real or Fake?: Far-out Fibs, Fishy Facts and Phony Photos.
May 10th 2016 by National Geographic Children's Books
Copy provided by publisher
This travel size (6 1/2" square) book presents a large variety of odd occurrences, and asks readers to decide whether they are real or fake. Each topic gets a four page spread, with the first two pages telling the story and showing pictures (of, for example, a 1950s "spaghetti harvest" in Italy) of the event, and the next two pages explaining either what really did happen or why it did not. These are not grouped in any discernible way, with tales of animals mixed in with urban legends and historical hoaxes. Photos are accompanied by photo collage pictures that are funny and will make kids chuckle. I can see this being a great read to bring on a family vacation. Kids could read the entries, and the whole family could opine on whether the item is "real or fake" before turning the page.
There are also no sources listed for the information. This is not meant to be a scholarly reference book, but rather something to read for fun. It is available in both paperback and hardcover formats, and is a more instructional book than Ripley's Believe it or Not or Guinness World Records books for reluctant readers.
Light, Kelly. Louise and Andie: The Art of Friendship
June 14th 2016 by Balzer + Bray
ARC from Young Adult Books Central
Louise is excited when a new neighbor moves in, and Andie likes art as much as Louise does. The two embark on a variety of projects, but when they argue over one picture, it rips in two and the friends stop playing together. Andie cleverly remakes their project so it is an extension of both of them, and shows their differences as well as their similarities.
This is a great story about making new friends, but also about the type of fight that is so typical to young readers who frequently don't know how to back down and apologize. The exuberant pictures aptly show the girls' excitement at meeting each other and finding a shared interest, the bitterness of their fight, and the disappointment they both feel at being unable to resolve the issue. Andie's solution is a clever one, and it's good to see the characters embark on a new art project involving their engaging pets.
The artwork has a retro feel, with bold colors and a 1960s feel to the furnishings and fashions shown in the picture. Andie rocks some white GoGo boots-- perhaps this will start a trend and I'll finally be able to own a pair!