Yardi, Robin. The Midnight War of Mateo Martinez
March 1st 2016 by Carolrhoda Books
Public library copy
Mateo and his friend Ashwin love to pretend that they are knights. They check out the same books on the subject from the library over and over, and even call their bikes names like "Steed". When Mateo sees two skunks steal his old tricycle, he gets in trouble with his younger sister, Mila, and his parents, so has to figure out where the trike has gone. He starts to realize that the skunks TALK, and soon he and Ashwin are involved in an animal territory war with the skunks Nuts and Buggies.
Strengths: This was a fun romp, fast-paced and humorous, and a good length. It is definitely fantasy because the skunks talk to Mateo, and I can see it doing well with readers who won't pick up anything but Erin Hunter's Warriors books, but also with students who just want a short, funny read.
Weaknesses: The local skunks and I have a complicated and very close relationship, so while I completely believe they would steal tricycles, I had one quibble: If Mateo had gotten sprayed in the face by a skunk, he would not have been able to hide this fact from anyone, much less his mother. We had a student a couple of years ago who had a skunk spray his garage when he wasn't anywhere near it, and he smelled like skunk for days.
What I really think: I'd buy this for an elementary library, but I don't see it doing well in middle school.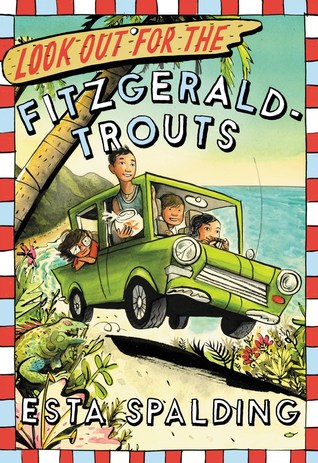 Spalding, Esta. Look out for the Fitzgerald-Trouts
May 10th 2016 by Little, Brown Books for Young Readers
E ARC from Edelweiss Above the Treeline
Four siblings (who have a variety of different mothers and fathers) live in a car on the beach of a tropical island because their mothers are unable to take care of them and their fathers are absent.Kim and Kimo, the oldest, try to make sure that Toby and Pippa get to school and are fed. Kim in particular would like very much to have a house of her own, since the car is getting a bit cramped, especially once they have a goldfish in a bowl and one of their mothers drops off baby Penny for them to take care of. The children eventually find a house that belongs to Kimo's father, who has supposedly been lost at sea, but even that isn't a place they can

definitely live.
Strengths: This had a Boxcar Children vibe to it, down to washing plates with sand in the ocean. Children who like to imagine living on the

ir own might enjoy this.
Weaknesses: This was just disturbing to me. Mr. Knuckles, a local store owner whom the children seem to know well, never calls Children's Services, even after the group ends up with a BABY? The children are allowed to drive the car around? The school seems to either not know that the children are alone, or not care. At first, I thought this was a British import, which would explain why the children are allowed to remain in these dire circumstances, but it d

oesn't seem to be.
What I really think: This had its amusing moments, but these were overwhelmed for me by the sheer horror of the children being on their own. At one point, Kim falls and they think she might be dead. Perhaps I am

just not understanding the point of this one.