Yes, yes, I know. I always complain about books where the parents die, and yet in this one BOTH the parents are murdered, but it was a great book.
Exceptions make the rule? I don't know. Read this one on our snow day and loved it.
Henry, April.
The Girl I Used to Be
May 3rd 2016 by Christy Ottaviano Books
E ARC from Edelweiss Above the Treeline
Ariel has had a tough life. Her mother was murdered when she was three, and her father accused of the murder. She was dropped off at a Walmart unharmed, and lived with her grandmother until she died. At that point, she ended up in a series of unsuccessful foster homes and at 17 is an emancipated minor with her GED by the name of Olivia, working at a grocery store to make ends meet. When her father's remains are found and a funeral is scheduled, she finds herself back in the small town where her parents were raised. She meets her grandmother's neighbor, Nora, and goes to the funeral to help her. There, she meets Duncan, who was her friend when she was small. She decides to stay in the town, rent her grandmother's house, and try to solve the mystery. Her parents had many friends, and many of them seem very suspicious. Once she goes poking around, what will she uncover, and how will it put her right back into danger?
I can't really say what was so appealing about this book. Olivia's past as a different person was intriguing, and her attempts to go back to that world as someone else is at once thrilling and dangerous. The depiction of small town life and the characters in the town is spot on, although I really would have thought more people would have recognized her. Another intriguing part of the story is the fact that Olivia is on her own. I think that this will appeal to my students, especially those who have read Henry's The Night I Disappeared.
The mystery felt like a news show, and in fact, Olivia talks about how her family appeared on John Walsh's show. There were lots of clues, and Olivia goes about investigating them very well-- too well, in fact, since the murderer tries to do her in as well!
Readers who enjoy murder mysteries like Sorrell's First Shot and Fake ID series, or Ferguson's The Christopher Killer series will find that The Girl I Used to Be is a pulse-pounding account of exploring a past fraught with danger that will keep them turning the pages well into the night!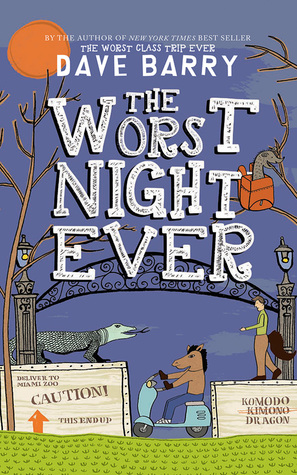 Barry, Dave. The Worst Night Ever (The Worst #2)
April 26th 2016 by Disney-Hyperion
If you didn't buy The Worst Class Trip Ever for your school library, put it on your order RIGHT NOW. Buy two copies. Then add one of this one. I actually preordered a copy for my very own, since Mr. Barry was super nice when I met him at the Smithsonian last year.
Wyatt and his friends are pitted against rich bullies who are up to no good, and he uncovers a plot of theirs involving dangerous animals. It wasn't quite as funny as the first, but I loved that Wyatt was in 9th grade, was clearly a high school student, but was still goofy and awkward and wasn't doing inappropriate things. I need so many more of this type of book that I am still completely willing to put together a list of librarians and teachers who are willing to deliver meals to Mr. Barry's house so he can write full time and not have to worry about mundane domestic tasks.
From Goodreads.com:
"
Last year, Wyatt Palmer was the hero of middle school, having foiled a plot against the president of the United States. But now he and his friends are in Coral Cove High School-home of the Fighting Conchs-and Wyatt is no longer a hero: He's just another undersized freshman, hoping to fit in, or at least not be unpopular. Things start to go wrong when Matt Diaz, who is Wyatt's best friend but also unfortunately an idiot, decides to bring his pet ferret, Frank, to school. Through an unfortunate series of events Frank ends up in the hands of the Bevin brothers, who are the most popular boys at Coral Cove High, but are also, as Matt soon discovers, the nastiest. When Wyatt and Matt try to get Frank back, they concoct a plan to attend a party for the cool clique at the Bevin's waterfront mansion and stumble onto the Bevin family's dark and deadly secret. That's when Wyatt learns that some things are worse than being unpopular in high school. MUCH worse."