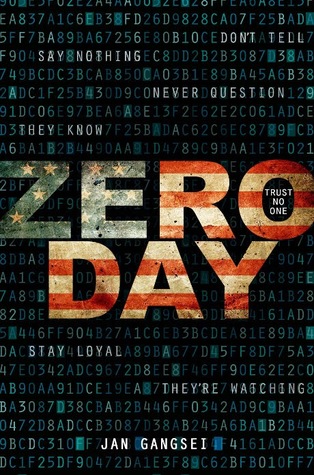 Gansei, Jan.
Zero Day
January 12th 2016 by Disney-Hyperion
E ARC from Netgalley.com
Addie's father is governor when she is kidnapped. She was playing with her friend, Darrow, who misses her dreadfully. Eight years later, when she is 16, she reappears. The Secret Service are very careful to make sure that she is actually Addie; President Webster and his wife have enough problems, with Addie's older sister Elinor in rehab after a bad drug overdose, and her younger sister, "replacement" Mackenzie unable to relate to people well. Addie checks out, and is reinstated with the family, but the secret service are watching her carefully. Darrow is glad to have her back; his mother is part of the Webster's security detail, and he goes to the Friends' school that Elinor attended. Addie is still skittish, but settles in well at school, even though having the secret service watching her so closely makes her feel a bit as she did during her years of captivity with a couple that lived "off the grid" and feared the government. There have been a rash of terrorist "attacks" around Washington; bombs have gone off at receptions, on the subway, and there has even been one reported strapped underneath a police car-- but all are fakes. Each time, a group claims responsibility, and tells everyone that they have been warned. Is it coincidence that Addie has reappeared at this time? Does she have anything to do with the attacks? Darrow and his friend Harper try to get to the bottom of the occurrences, and Addie makes some startling discoveries of her own. The ending of this screams "There will be a sequel!"
Strengths: There are so many things going on here! Addie's reentry into her former life after years in captivity is interesting enough, but her possible involvement in the terrorist group adds a very interesting psychological layer to this. Her family issues are realistically portrayed, and reading about life in the White House is something my readers tend to enjoy. There's lots of details about espionage, lots of action-- perfect for readers who liked Monaghan's A Girl Named Digit, Barnes' The Fixer, Benway's Also Known As and Carter's Heist Society Books.
Weaknesses: Didn't need the phrase "Clusterf***" on page 306 (314 on my e reader). Everything else was fine for older middle school readers.
What I really think: I may wait to purchase this one (and do a little Bowdlerizing) until after I read the second book in the series. While this book is okay for middle school, the second book could go in a much more YA direction.
Vernon, Ursula.
The Frozen Menace (Dragonbreath #11)
January 12th 2016 by Dial Books
E ARC from Edelweiss Above the Treeline
Danny is feeling sick-- not in pain, but very, very cold. He finally goes to visit his grandfather in mythical Japan, and is instructed to eat Phoenix eggshells to restart his fire. Luckily, Wendell and Christiana are with him, and the three take off to the mythical north to find the phoenix. Despite the treacherous bridges and enormous iceworms, they locate a phoenix nest, and are just in time to watch a baby phoenix hatch. Because of the ice worms, the little guy almost doesn't make it, but the friends work together to get the baby warm and dry. Unfortunately, the baby imprints on Wendell and wants to follow him everywhere, which does not make the mother phoenix happy. The fact that the group has named the baby Herbert doesn't either, but they find a way to get the baby to attach to the mother and head back to the real world, with Danny's ability to breathe fire greatly improved.
Strengths: This series is so much fun. There are pictures, yes, but also a decent amount of text, and Danny's adventures are always innovative and interesting. I love the bus that takes the group to "mythical Japan", as well as refrigerators being portals, and the phoenix baby imprinting on poor Wendell. Lots of action and adventure as well.
Weaknesses: Horrible bindings do not wear well at all, so book one is in tatters. I know, I know-- the publishers want to make money!
What I really think: Whole grain toaster pastries with added vitamins and fiber. These are so amusing and well done that I don't mind handing them to students.