Naylor, Phyllis Reynolds.
Going Where It's Dark
January 12th 2016 by Delacorte Books for Young Readers
Copy provided by the publisher
Buck is looking at difficult summer at his rural home near the Blue Ridge Mountains. His best friend has moved away, he's being teased by boys in his class who mock his stutter, and he has to do a lot of work in the family garden and also for a man his uncle has been helping. All Buck wants to do is to investigate the caves near his home, but his parents won't let him go without someone else. Luckily, working for Jacob Wall has its advantages; Wall once worked with veterans who had speech issues, and is willing to help Buck for free. In the meantime, Buck also helps his grandfather investigate plywood thefts at the family lumberyard with the help of his older brother and uncle. When the boys from his class who have been making fun of him drop Buck down a pit quite some way from his home, he knows he can use his spelunking skills to get home, but the adventure is more harrowing than he expected it to be.
Going Where It's Dark has a great sense of place, as well as a number of well-developed characters. Buck's family is very supportive, even though his parents are struggling with work issues, and it's nice to see the inclusion of his truck driving uncle who is around from time to time, as well as his twin sister, who has secrets of her own.
The two biggest issues in the book are Buck's speech problems, and his interest in caving. Both are treated with care, and the research and background knowledge Naylor has of both of these is evident. I just wish that the excitement of the caving adventure had come much earlier in the book.
Some tighter editing would have made this a stronger story; there are a lot of things going on in the book that are less than interesting. The plywood stealing could have been cut out, and while the boys ridiculing Buck for his stutter were necessary to get him into the cave, it's hard to believe that this sort of behavior would have been tolerated by any adult in the picture. Buck's mother taking him to the faith healer also could have been cut. Naylor is such a good author that it seems rude to criticize her work. This was a good book that could have been even better.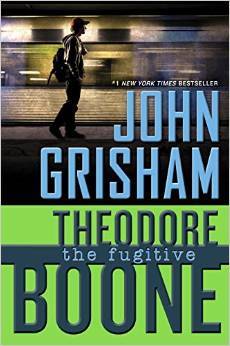 Grisham, John.
The Fugitive- Theodore Boone #5
May 12th 2015 by Dutton Books for Young Readers
When Theo is with his 8th grade class on a field trip to Washington, D.C., he thinks he sees Pete Duffy, who has fled Strattenburg after being charged with murder. Theo contacts his Uncle Ike for help, and thinks for sure that the FBI will bring him in, but Duffy can't be found. Ike and Theo are asked to go back to D.C. to try to catch him, and they do. He is taken back to Strattenburg and a trial is set, but the problem now is getting Bobby Escobar to testify. Bobby is afraid that he will be deported, and goes missing on the eve of the trial. Theo, of course, is crucial to the entire case, and the judge frequently consults him, and asks Theo's parents to let him out of school to come to court. Once Bobby is found and convinced to testify, things don't go well for Pete. He is sent to prison, but he has associates on the outside who know all about Theo's involvement.
Strengths: Theo is a tween saving the world AND his parents are still alive. Hooray! Lots of good details about the law, adventure, evil doers-- lots of good stuff.
Weaknesses: Really? The judge consults him. And he just happens to be the only one who sees Duffy in D.C. Hard for me to believe, but average 12 year old won't mind.
What I really think: Decent enough crime series, and there aren't enough of those for middle grade readers. Still, a sixth book should bring this to a close. We can find out Ike's secrets, and take care of Duffy's allies.
Snicket, Lemony. Why is this night different from all other nights?
September 29th 2015 by Little, Brown and Company
In this fourth and FINAL book in the All the Qrong Questions series, Lemony finds himself desperate to get on The Thistle of the Valley train, because he sees his guardian, Theodora, get a costume and then board the train herself. No one will let him on, so he jumps on and is saved by Moxie. Everyone seems to be on the train, which has a holding cell for prisoners. When the library Dashiell Qwerty is murdered and Theodora is found with his body, she is accused of the murder by the inept police. Lemony investigates, and this leads him to Elliot Feint, who is still looking for her father. Hangfire is still trying to get the statue of the Bombinating Beast, and many mysteries are unraveled as the train speeds toward the Clusterous Forest. In the end, the forces of evil seem to have been quashed, and Stain'd-by-the-Sea should have a path back to success plotted for it.
Strengths: A great, quirky film noir type novel with a plethora of large vocabulary words explained with the phrase "which here means".
Weaknesses: Why do authors think students even know what film noir IS, mcuh less want books written in that irritating style? I am so glad that this is only four books; it has not been a big circulator, and even The Series of Unfortunate Events is becoming neglected.
What I really think: Not a Snicket fan, although I did finally do an internet search, and VFD apparently stands for the evil organization, the Volunteer Fire Department. Ugh.