I have decided that for Boys Read Pink month in February, I am going to recommend the heck out of this series. It's about football! I don't care if it has girls on the covers! Great stuff for any reluctant readers, plus a little age-appropriate relationship advice. Love!
Payton, Belle. A Lot to Tackle (It Takes Two #9)
September 15th 2015 by Simon Spotlight
The high school team that Ava and Alex's dad coaches is going to the state championship, and their brother Tommy might get a chance to play in it. Both girls are worried, however, that if the team doesn't win, their dad will be out of a job and they will have to leave. To avoid that possibility, the girls try to set their pottery making mother up for a job at a local private school. Ava's middle school football team is doing okay, but she is still struggling to be accepted by the guys, especially when she doesn't make a winning kick.
Strengths: This is a great series that showcases a strong family with supportive parents, football, twins, and realistic difficulties in school. Each volume is short and easy to get through, so some of my struggling readers love these.
Weaknesses: There is a lot going on, and the girls always try to do things that are a little unrealistic-- get their mom a job, save the day, etc.
What I really think: I enjoy these waaaay more than I should!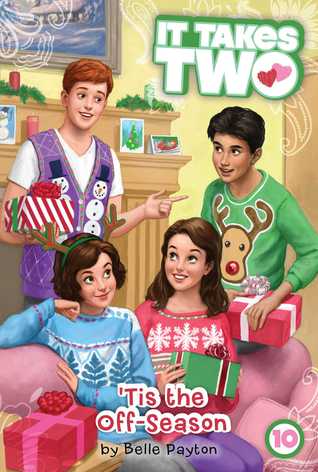 Payton, Belle. 'Tis the Off Season (It Takes Two #10)
November 17th 2015 by Simon Spotlight
Football season is over, so the girls are trying to focus on other interests, but Ava's parents tell her she can't be on the basketball team because she is struggling with grades. Alex also overbooks herself, promising to host a holiday party for friends that becomes too much. Their parents are being a bit odd-- the family is not traveling back east for the holidays, and money seems to be an issue. It turns out that they have a good reason for their actions, but weren't at liberty to tell the girls. In a very interesting side story, Corey and Lindsay break up because Lindsay is too intense, and Alex finds that she and Corey are becoming closer.
Strengths: Great discussions of time management, appropriate middle school relationships, asking for help when struggling in school.
Weaknesses: Decorated Christmas sweaters are NOT ugly sweaters!
What I really think: Can't wait to hear how Ava does on the basketball team!