Applegate, Katharine.
Wishtree
September 26th 2017 by Feiwel & Friends
E ARC from Edelweiss Above the Treeline
Red is an oak tree who has been around for over 200 years. She has a number of animal families inhabiting her branches, along with her best friend, the crow Bongo. It is tree policy not to talk to humans, but when a boy carves "Leave" into her bark in an effort to scare off Samar's Muslim family from living in the neighborhood. The tree makes an effort to make Samar's wish come true, and employs various animals in various ruses in order for next door neighboor Stephen to talk to her and become friends. Francesca, who owns the houses where Stephen and Samar live, decides to cut down the tree, which is pushing up the sidewalk, interfering with the plumbing, and causing problems on "Wishing Day" when people follow an old Irish tradition of tying wishes to the tree. Red isn't happy, but starts to make her peace with leaving, although she does break her policy and tells Samar and Stephen the story of a baby left in her care years before. The animals who live in her are less than pleased, and work on a plan. Bongo gives Samar a key on a ribbon; it's the key to Francesca's ancestor's diary, which Samar locates in a storage shed. Stephen rallies his classmates around the tree, and around Samar's family, but will it be enough to save Red from being cut down?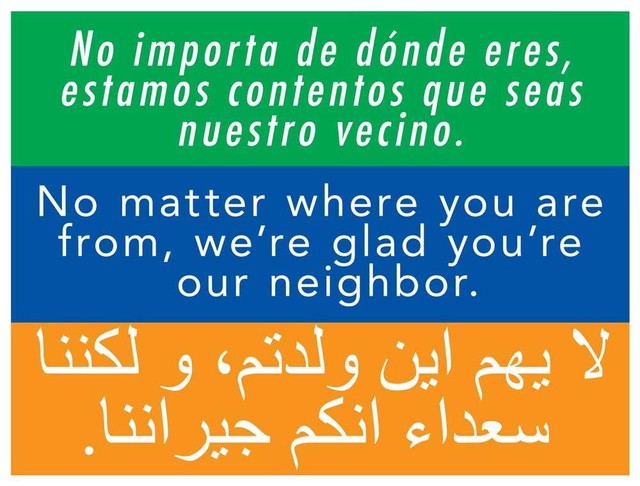 Strengths
: This is certainly on point with current topics in the news, and with multicultural awareness. The sign at left is appearing more and more in my neighborhood. Applegate is a lyrical, effective writer, and I have to admit that I cried a little at certain points of the book. I can see this being used in classrooms, like Palaccio's Wonder, to promote kindness and awareness. I wouldn't be surprised if this won a Newbery Honor.
Weaknesses
: This is a very gentle, slow book, narrated by a tree. All of my readers seem to want books that are more fast paced or humorous. Perhaps this would do better with elementary readers or for a class read aloud, delivered by a very enthusiastic teacher.
What I really think
: Will probably not purchase. It's a lovely book with an important message, but I don't think I have the readers for it.
Clarke, Cat.
The Pants Project
March 7th 2017 by Sourcebooks Jabberwocky
Public library E Book
Note: I use the pronoun "she" for Liv because for most of the book she is living as a girl and has not expressed a desire to use a different pronoun. If there were a sequel, Liv would probably be referred to as "he".
Liv lives with her Mom and Mamma, and goes to a very good private school. As she starts middle school, she's excited but also not happy-- all the girls in her school have to wear skirts, and Liv does not feel like she is a girl. The shoes for the uniform are okay, and she likes her short hair, but the skirt makes her feel highly uncomfortable. She doesn't want to complain, because she hasn't told her parents yet. At school, she is having trouble with her friend Maisie, because Maisie is gravitating toward mean girl Jade and her friends. Jade has made enough comments about how "gross" it is that Liv has two mothers that Liv lies to them and claims that an open house has been rescheduled so that they don't come. Liv does make friends with Jacob, and even wears pants to school with a skirt over them, but she gets in trouble. After that, Liv tries to talk to the principal about how unfair and sexist the rule is, but he won't listen. She starts a petition, with Jacob's help, and eventually comes up with a plan that gets the attention of the news media. Eventually, she is comfortable enough to let Jacob know that she is transgender, and tells her parents as well.
Strengths:
This is a great book for middle school about a transgender student. The concerns are middle grade appropriate. Jacob's reaction to Liv's announcement is exactly how we want all of our students to react: you are my friend. I don't care about anything else. Liv's mothers present a little bit of a problem in how Liv's classmates react and how she has to deal with their reactions, but otherwise are just her parents. The issue I have with many LGBTQIA books is that they frequently involve a lot of drinking and descriptive sexual content; this book does not have any of that, for which I am thankful.
Weaknesses
: Like Gracefully Grayson, a lot of Liv's discomfort with her gender are manifested through her discomfort with the "gender appropriate" clothing and exterior trappings. I would like to see a book that helps explain, on a deeper level, why a character feels trapped in the wrong body. I also had a LOT of problems believing there were any schools that would not allow girls to wear pants. At the end of the book, I realized that Clarke is a UK author; maybe things are different there. I cannot imagine a school in the US where this would be the case, which made it hard for me to embrace the main premise of the book.
What I really think
: We have had several students at various points in similar journeys, so purchased this and it has circulated well. I know that I should rethink my policy to call students "Ms." and "Mr.", but I still like to do that. I may have to start calling transgendered students just by last names, although since I refer to all of my students as "dear" and "sweetie" that seems nicer than calling them "Smith" or "Columbo".
Blathery Notes: And really, EVERYBODY needs an older person in their life who calls them "honey" from time to time. I never go as far as calling everyone "cupcake" one day a year, but I love it when people call me "dear". Also, I love pleated skirts because I'm a bit... oddly shaped and pants are not attractive on me.
Also, I know it's Banned Books Week, and I should be excited, but I'm just not. Should books be challenged? No. But should middle school libraries be expected to have books with graphic sex, profanity, or drinking and drug use? Since a huge percentage of my circulation is books that I personally put into students' hands, it seems... creepy if I give a 12 year old a book from which they could learn details about sex. Or drugs. Or if the book includes curse words which would get them suspended if they used them.
I CANNOT BUY ALL THE BOOKS. Doesn't it just make sense that I buy the books that will get read? Certainly, I try to make sure all students see themselves, but why would I spend money on YA books? The students who really want them can get them in high school, or get a free public library card without ever having to set foot in the library, since our local library delivers to school. I'm just not handing the books to kids.