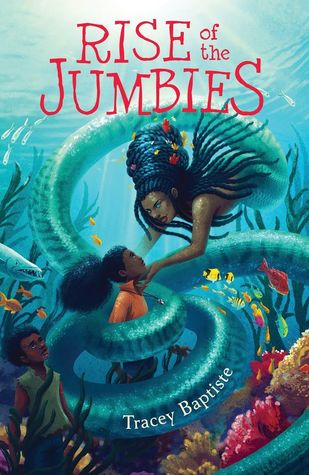 Baptiste, Tracey.
Rise of the Jumbies. (Book #2)
September 19th 2017 by Algonquin Young Readers
E ARC from Edelweiss Above the Treeline
When there is an earthquake in Corine's small town, several children go missing, and because Corine is part jumbie, her neighbors suspect that she might be involved. To find the children, Corinne risks her own fate to meet with Mama D'Leau, who agrees to help if Corinne can retrieve an opal for her. The problem? The opal is located in Ghana, and Corinne and her friends Dru, Malik and Bouki must travel there with four mermaids, Sisi, Addie, Ellie and Noyi. On their way, they come across a wrecked slave trading ship, and realize that there mermaids were girls who were stolen from Ghana. Once in Ghana, Corinee meets Kahiri, who helps the children get something to eat, and is instrumental in helping them locate Mama Wata's opal which Ma Dessaly has. It's not an easy task, but once the group has the stone, they make their way back home, where there has been a terrible fire. The missing children are found, although some have been turned in to douens. Corinne decides to accept Mama D'Leau's offer of turning her into her jumbie self so that she can take Severine far away where she will no longer be a problem. Mama D'Leau says that this will be a permanent change, but Corinne feels that her neighbors will never accept her, so she agrees. Will Corinne and her father be separated forever?
Strengths
: Nicely adventurous and dangerous romp in the sea with evil creatures. Corinne's struggles with her identity are well done; she says at one point that she is part human and part jumbie and that she shouldn't have to choose. The details about life on her Caribbean island, as well as the glimpses of life in Ghana, are well drawn and will interest young readers. I have had a number of students from Ghana over the years, and am glad to finally find a book where they might see themselves!
Weaknesses
: There were a lot of characters to keep straight, and I never was able to differentiate the mermaids.
What I really think:
This would actually be paired quite well with
Shackles from the Deep
-- there's the wreck of a slave ship AND a mention of a building that sounded a lot like Elmina Castle! I think I liked this sequel even better than the original, which rarely happens. Traveling with mermaids-- how could you go wrong?