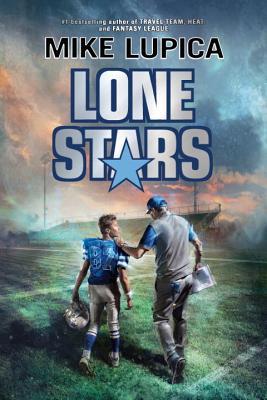 Lupica, Mike.
Lone Stars
.
September 12th 2017 by Philomel Books
E ARC from Edelweiss Above the Treeline
Clay loves playing football with his good friends, and football is a family activity in Texas. His mother is a staunch supporter, even though she worries, and she invites his coach, Monty Cooper, over for dinner. When Clay takes a big hit that knocks the wind out of him, he starts to shy away from some of the contact on the field, which he knows is in direct violation to Coach's dictum "don't play scared". When his friend David sustains a concussion on the field, this doesn't help Clay's fear, especially when he researches the long term effects of concussions and starts to suspect that Coach is suffering from some of them. David's sister Maddie is the team manager for the Pop Warner Lone Stars team, and Clay shares his concerns with her. The two also bond over their love for the Alamo, and start texting each other and hanging out together. When Coach seems to have more and more problems with memory, and is involved in a minor auto accident, David and Maddie put some supports in place to help him get through the season. If the Lone Stars can make the championship, Coach can return to the stadium where he played some of his games with the Cowboys, and he also hopes to go to a Cowboys reunion during Thanksgiving weekend. There are a few more injuries on the field, and Clay has to learn to balance his concerns with his need to play football.
Korman's
Pop (2009)
was one of the first books that addressed the long term effects of "the cost of business" or "bell ringing", eight years later, this has become a cause of great concern that has been well represented in some nonfiction literature, such as McClafferty's
Fourth Down and Inches:Concussions and Football's Make-Or-Break Moment
and even Steve Almond's adult title,
Against Football
. What makes Lone Stars successful for me is the clever combination of Clay's fear on the field and his coach's vivid example of what can happen if a player is not cautious.
As always, Lupica really shines when it comes to the female characters in the books. Clay's mom wants him to be concerned, but she doesn't want to scare him. Maddis knows and loves football, and she and Clay are able to hang out comfortably together. Are they dating? They joke about it, but since they are so young, they are okay with being friends for the moment. Maddie also has some great tech skills to help coach out, and she and Clay make a great team.
I was concerned for a while that the Coach's problems would not be brought to the attention of adults who could help him, but Clay and Maddie are responsible kids and know that eventually the matter will become too big for them to handle.
Of course, middle school readers will want the football details more than the emotional ones, and there's plenty of pulse-pounding, on the field action. With David out of commission, the Lone Stars have to learn to work together as a slightly different team, and their process of understanding what they need to do was interesting, even though I didn't understand most of the football plays!
Readers who enjoy Tim Green, Lupica's other books, Rich Wallace, or David Klass will definitely want to pick up Lone Stars. My only complaint is that I thought the ending was rushed-- I was prepared to read another 100 pages to find out how things went after the championship game!
Join the Blog Tour!
Week One:
September 20 – Teachers Who Read – Review
September 21 – Ms. Yingling Reads – Review
September 22 – YABooksCentral – Excerpt with Giveaway
Week Two:
September 25 – Margie's Must Reads – Excerpt
September 26 – Mom Spot – Review
September 28 – Teachers Who Read – Reviews
Week Three:
October 3 – Welcome to Wonderland – Review