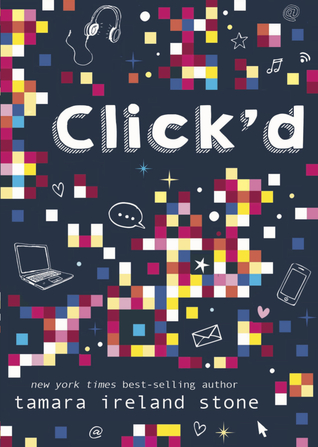 Stone, Tamara Ireland.
Click'd
September 7th 2017 by Disney-Hyperion
ARC from
Young Adult Books Central
Allie has an amazing time in the CodeGirls Summer camp and is really excited about the app she has created, Click'd. It is designed to help kids make friends by having them answer a questionnaire and matches them accordingly. Then, when their phone is near the other person's phone, there are a series of prompts that connect the two. Allie decides to launch it during the first week of school, right before her dedicated coding teacher, Ms. Slade, has entered her in the Games for Good competition. She gets a lot of people to download the app, and everyone suddenly knows who she is. Unfortunately, there is a glitch in the app that sends a screen capture of a text conversation her friend Emma has to the wrong people. Emma is rightfully angry, and wants Allie to fix the app, but it's complicated. The code is intertwined with other features, and Allie eventually reaches out to fellow coder, her nemesis Nathan. He is also entering the competition and has a glitch of his own. Allie is able to help him, and Nathan tries his best, but nothing fixes the code the way it needs to be fixed. Right before the competition, Allie has to pull out because she causes further trouble in the code. Eventually, she figures out her mistake, but can she repair the code and her relationships with Nathan and Emma?
It's great to see the current push to get children, especially girls, into coding, although it is about 40 years too late! I coded enough in high school and college that I was able to make sense of Allie's process; it's a fine line between giving enough details to make coding seem interesting, and giving so many that it seems boring, but Stone strikes a good balance.
The important part of the story, of course, is the middle school drama. This is done very realistically; I especially like the teacher who is collecting cell phones in a bucket because children are not supposed to have the devices out during the day. Allie misses her friends from coding camp and feels a little awkward with her other friends because they have been apart. She has a lot in common with Nathan, but she also resents his success. Ms. Slade is a positive and fun role model.
We're just starting to see books that include more discussion of programming in them, but there aren't a lot. While Click'd will appeal to a wide range of readers who like books with lots of friend drama, it will also appeal to readers who want more details about coding and have enjoyed books like Saujani's nonfiction guide, Girls Who Code: Learn to Code and Change the World and Deutsch's fictional companion series, The Friendship Code (Girls Who Code#1)
Why do I feel a little lukewarm about this? See below. How well have these titles held up?