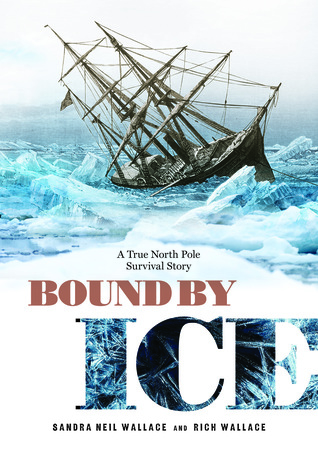 Wallace, Sandra Neil and Rich.
Bound by Ice: A True North Pole Survival Story
September 19th, 2017, Calkins Creek Books
ARC received from the publisher
In 1879, George W. DeLong attempted to travel to the North Pole, spurred on and funded by Gordon Bennett Hr., the own of the New York Herald newspaper. After the Civil War, there was quite a mania for discovering new places, and at the time there was a belief that there was a tropical ocean at the top of the world. Bennett, who liked any news that would sell papers, even if it were false, thought to capitalize on this fervoe with DeLong's trip. DeLong was a seasoned sailor and a detailed planner who went into the journey well prepared, with an excellent crew aboard his ship, the U.S.S. Jeannette.Not surprisingly, the trip did not go well. The ship was trapped in the ice several times, supplies ran low, men got sick, and finally, when the ship had to be abandoned, men and dogs perished trying to make it to civilization across the forbidding, frigid land. Amazingly, a handful of the men survived. What I found interesting was that the newspaper really didn't get any reports back from DeLong, so it seems like they didn't really get their money worth!
Strengths:
The Wallaces do a fantastic nonfiction book.
Babe Conquers the World
is one of my favorites! The research is impeccable (the bibliography and end notes are especially impressive), but the engaging way the story is told is what will sell the book to readers. It doesn't hurt that the book is nicely formatted. Plenty of white space, period line illustrations from newspapers, and journal entries from crew members all add to this story of survival against the odds. The journals, as well as the information about DeLong, give a personal touch to the book and invites readers to have an emotional investment in the voyage. There are a number of seafaring fiction books with which this can easily be paired; hand it to fans of Flanagan's Brotherband Chronicles while they are waiting for the next book in the series!
Weaknesses
: I am not an adventurer at heart, so it is beyond me why anyone would undertake such a voyage! Even though the writing moves the story along, there is a lot of sitting on ships waiting for things to happen. And scurvy, which is never pleasant.
What I really think
: Excellent narrative nonfiction on a topic that is not much covered, but would go nicely with Seiple's
Igloo and Byrd
.
Catch the Blog Tour for
Bound By Ice
! I'm very pleased to help get the word out about this exciting book, and looking forward to having both authors participate in my
Kidlitcon Sports Panel
!